Special Needs Dobermans and the The Doberman Digest recognize the difficulty in placing aging Dobermans in loving homes. Doberman rescue groups have worked tirelessly to save and care for these precious creatures, and we would like to help you find them forever homes. We are working with The Doberman Digest, a national Doberman fancy magazine, to publicize the plight of senior Dobes in addition to creating a national database and website dedicated to senior Dobes in need of families. Special Needs Dobermans will provide the website and Doberman Digest will regularly commit space in their bimonthly magazine to publicizing these senior Dobes' needs. The Doberman community is truly reaching out to address this crucial cause. Please visit our page at www.doberman911.org/seniors. Find out what's being done to help our senior friends!

**** Meet the SDP's Senior of the Week!! ****

May 12, 2013 through May 18, 2013

Meet Miss Sasha Rose!!
I was busted out of jail and now I'm in heaven - in the clover!!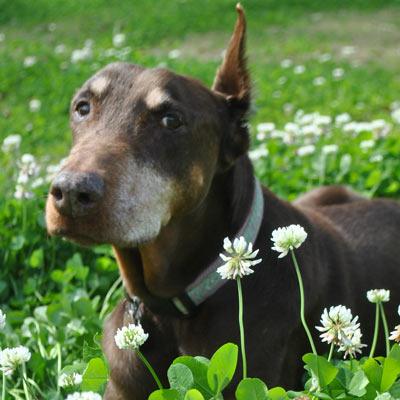 I'd LOVE to have a sponsor!!
Senior Lady, 13 year-old Sasha Rose was dumped out in a neighborhood before Gulf Coast Doberman Rescue could answer her owners email wanting to surrender her. She was then picked up by Animal Control as a stray so had to, by law, spend four days in a horrible animal shelter on a stray hold before rescue could pick her up. Sasha is deaf or very hard of hearing and when pulled had a severe ear infection. She has arthritis in her rear legs but still gets around well and has been placed on medication to help with this. She was, to everyone's surprise and delight, heartworm free! Sasha Rose is very much the dobie girl and can hang with the rest of her foster mates when it comes to leaning and nudging for attention. Her Foster Mom feels she still has some living and loving to do, even at the grand old age of 13 and will be allowed to stay with her Foster Family the rest of her days. To learn more about Sasha Rose visit her page at
http://doberman911.org/seniors/cases/la_sasharose.html.
You can learn more about Miss Sasha Rose and many other Seniors who need your support by going to http://www.doberman911.org/seniors/cases. Here you can also help Doberman rescues across the country with their Seniors by sponsoring a Senior Doberman for $40 per month or $480 per year. Our goal is to encourage Rescues to take in more Seniors by helping them with the day to day expenses for routine medical care or just extras like nice comfy beds and toys to make their golden years the best yet. It's a great way to honor the life's of these older Dobermans, many of whom never knew love or care during their younger years.
If you have any questions about Miss Sasha Rose or any of our other beautiful Seniors, please email us at seniors@doberman911.org. Thank you for your support!!
The Senior Medical Assistance Program
Special Needs Dobermans and The Doberman Pinscher Magazine have teamed up to place a special focus on fundraising efforts to assist Senior Dobermans with their medical needs. Having provided a lifetime of love, devotion, and loyalty, these Seniors now find that they are faced with increasing debilitating medical problems. These loving seniors may be with a rescue group and seeking a forever homes or they may be privately owned. Since the financial burden of providing necessary medical treatments is sometimes beyond the means of their caregivers, they have applied to SND for financial assistance. While SND lists Seniors in Need both on our Newest Cases and on our Still In Need, The Doberman Pinscher Magazine helps Seniors by reaching out to the Doberman community by raising funds for the Seniors Medical Fund, devoting space to Senior Health issues and highlighting Seniors in Need. These are four beautiful Seniors who have benefited from this great program:





Rommel Sage Gunther Magnum