Special Needs Dobermans recognizes the difficulty in placing aging Dobermans in loving homes. Doberman rescue groups have worked tirelessly to save and care for these precious creatures, and we would like to help you find them forever homes. We publicize the plight of Senior Dobes in addition to creating a national database and website dedicated to senior Dobes in need of families. Special Needs Dobermans Senior Doberman Project provides the website for Rescue Groups for publicizing their Senior Dobes' needs. The Doberman community is truly reaching out to address this crucial cause. Please visit our page at www.doberman911.org/seniors. Find out what's being done to help our senior friends!
* * * * Meet the SDP's Senior of the Week!! * * * *
SND's Senior Doberman Project's
Senior of the Week!

July 21, 2016 through July 28, 2016

Meet Miss Greta!!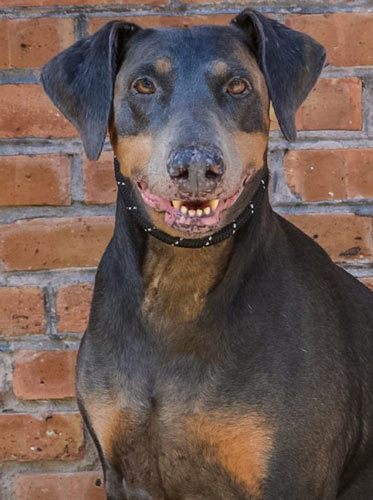 I'm giving you my best smile... AND, I have a huge supply left!!!
Click my picture above and visit my page!!
And... She'd love Sponsors while she's enjoying life!!
Greta is one of 4 Dobes who lost their home when their owner lost theirs. She spent the last 7 years living with her 3 puppies (Sebastian, Hans, and Belle). Since no one is in the market to adopt 4 Dobermans at once, we will have to split them up to give them a chance at forever homes, but we are open if someone wants to adopt a pair from this group together. Greta is great with the dogs she came in with, but we always recommend slow intros when introducing new dogs into an adoptive home. She is 9 years old, and she has a dark blue coat. She is a little chunky, and she looks like a seal like her daughter Belle. Greta was pretty laid back for photos. She just arrived, and she needs to get up to date at the vet, but she was already spayed. She has no history with cats or kids. If you are interested in making Greta a part of your family, please email Dobes@ILDobeRescue.com. To sponsor Greta visit her page at http://www.doberman911.org/seniors/cases/il_greta2.html.
You can learn more about Miss Greta and many other Seniors who need your support by going to http://www.doberman911.org/seniors/cases. Here you can also help Doberman rescues across the country with their Seniors by sponsoring a Senior Doberman for $40 per month or $480 per year. Our goal is to encourage Rescues to take in more Seniors by helping them with the day to day expenses for routine medical care or just extras like nice comfy beds and toys to make their golden years the best yet. It's a great way to honor the lives of these older Dobermans, many of whom never knew love or care during their younger years.
If you have any questions about Miss Greta or any of our other beautiful Seniors, please email us at seniors@doberman911.org. Thank you for your support!!
The Senior Medical Assistance Program
Special Needs Dobermans has placed a special focus on fundraising efforts to assist Senior Dobermans with their medical needs. Having provided a lifetime of love, devotion, and loyalty, these Seniors now find that they are faced with increasing debilitating medical problems. These loving seniors may be with a rescue group and seeking a forever homes or they may be in hospice care with their RescueAngels. Since the financial burden of providing necessary medical treatments is sometimes beyond the means of their caregivers, they apply to SND for financial assistance. While SND lists Seniors in Need both on our Newest Cases and on our Still In Need, we must help Seniors by reaching out to the Doberman community by raising funds for the Seniors Medical Fund. This fund is exclusively for Senior Dobes in the care of Rescue Groups. Here are four beautiful Seniors who have benefited from this great program:





Rommel Sage Gunther Magnum