Special Needs Dobermans recognizes the difficulty in placing aging Dobermans in loving homes. Doberman rescue groups have worked tirelessly to save and care for these precious creatures, and we would like to help you find them forever homes. We publicize the plight of Senior Dobes in addition to creating a national database and website dedicated to senior Dobes in need of families. Special Needs Dobermans Senior Doberman Project provides the website for Rescue Groups for publicizing their Senior Dobes' needs. The Doberman community is truly reaching out to address this crucial cause. Please visit our page at www.doberman911.org/seniors. Find out what's being done to help our senior friends!
* * * * Meet the SDP's Senior of the Week!! * * * *
SND's Senior Doberman Project's
Senior of the Week!

June 29, 2016 through July 6, 2016

Meet The Titan!!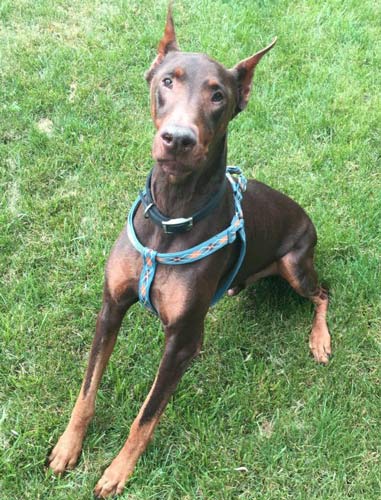 I may not get around well but I'm still young at heart!!
Click my picture above and visit my page!!
And... He'd love Sponsors while he's waiting!!
Titan is in IDR's Guardian Angel program so his adoption fee is sponsored! Titan is a sweet older gentleman who just wants a loving forever home. His foster mom would keep him herself if she didn't have a young Dobe who doesn't understand personal space. Titan is 8 years old, and he gets along great with the other dogs in the foster home, but he is unsteady with Wobblers, so he'd be best without a silly pup wanting to bodyslam him all day. She said he is the perfect dog. Titan came to IDR+ when his previous parents separated and he couldn't go with them. In his foster home, he is trusted and just baby-gated in a room instead of in a crate. He is completely non-destructive. He lived with kids in his previous home, but we'd prefer to place him with older kids who understand that he's not a toy to climb on. He loves everyone he meets, and you will love him, too. He knows a couple of basic commands (speak is our favorite!) and he is very well behaved. He also enjoys chasing a ball or toy if you throw it for him… and he will trot around happily but isn't much of a retriever. He is young at heart and loves all types of toys and tennis balls. Titan lived successfully with horses in his previous home in addition to large and small dogs. He is also fine with cats, and he has no prey drive with the critters that run in the yard. As you can see in his video on the IDR site, he has Wobblers, which is common in Dobes. He gets around slowly, and he'd appreciate few stairs to go out for potty. Hard floors are pretty scary so he would appreciate a home with carpet and plenty of rugs and runners. He was getting acupuncture and supplements, and he has been assessed by our vet. For now, it seems like a daily steroid is giving him that little boost he needs. If you have a spot in your heart and home for this sweet guy, please contact Illinois Doberman Rescue. To Sponsor Titan visit his page at http://www.doberman911.org/seniors/cases/il_titan2.html.
You can learn more about Mr. Titan and many other Seniors who need your support by going to http://www.doberman911.org/seniors/cases. Here you can also help Doberman rescues across the country with their Seniors by sponsoring a Senior Doberman for $40 per month or $480 per year. Our goal is to encourage Rescues to take in more Seniors by helping them with the day to day expenses for routine medical care or just extras like nice comfy beds and toys to make their golden years the best yet. It's a great way to honor the lives of these older Dobermans, many of whom never knew love or care during their younger years.
If you have any questions about Mr. Titan or any of our other beautiful Seniors, please email us at seniors@doberman911.org. Thank you for your support!!
The Senior Medical Assistance Program
Special Needs Dobermans has placed a special focus on fundraising efforts to assist Senior Dobermans with their medical needs. Having provided a lifetime of love, devotion, and loyalty, these Seniors now find that they are faced with increasing debilitating medical problems. These loving seniors may be with a rescue group and seeking a forever homes or they may be in hospice care with their RescueAngels. Since the financial burden of providing necessary medical treatments is sometimes beyond the means of their caregivers, they apply to SND for financial assistance. While SND lists Seniors in Need both on our Newest Cases and on our Still In Need, we must help Seniors by reaching out to the Doberman community by raising funds for the Seniors Medical Fund. This fund is exclusively for Senior Dobes in the care of Rescue Groups. Here are four beautiful Seniors who have benefited from this great program:





Rommel Sage Gunther Magnum