Rigley!
February, 2013 - Rest In Peace, dear Mr. Rigley!

Meet Mr. Rigley!! Poor Guy!! He's overweight but his masses make him LOOK fatter!
We're working on those and a good diet too!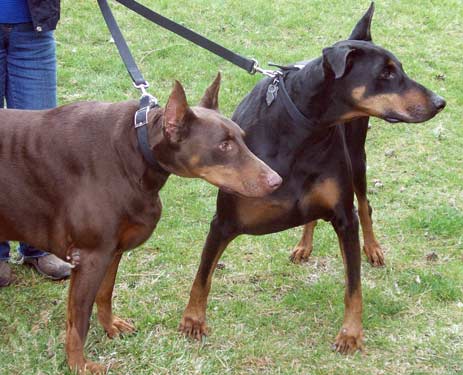 Mr. Neico and his BFF, his brother Mr. Rigley!! What a handsome duo!!
Visit Mr. Neico here http://www.doberman911.org/seniors/cases/pa_neico.html
Nine year-old Mr. Rigley was surrendered to rescue along with his brother Mr. Neico when their owners divorced. These poor sweet boys are very over weight and and have multiple large masses that will need to be removed. Neico is a well behaved guy who loves attention and gets along well with other dogs. Mr. Neico is also asking for your help for the surgeries he's getting to take care of some troublesome, huge, masses - please visit him on his own SND Case pages here http://www.doberman911.org/newcases.html and http://www.doberman911.org/cases/rigley.html and help this DobeGent get on with the life he deserves!!
WOW! Wouldn't it be wonderful to get these guys into the same forever home? Together forever as these good brothers deserve to be!!
Special Needs if any: None
Geographic areas: Northeastern states including New England
Contact Information
Rescue Group: Distinguished Doberman Rescue, Inc.
Location: Moon Township, PA
Contact: Susan Szyklinski
Phone: Emails only
Website: http://www.ddrinc.net
Email: sszyklinski@gmail.com
The Sponsor A Senior program helps Seniors by raising funds for their rescue programs. This helps offset some of the additional costs that come with caring for a senior (diet, medications, supplements, etc.). Please read more about this program on the Sponsor A Senior page.
Mr. Rigley is looking for a sponsor! The cost to sponsor a Senior Dobe is $40 per month or $480 per year. You can sponsor a Senior for one month, one year, or somewhere in between. To sponsor Mr. Rigley, use the PayPal button below or visit the Sponsor A Senior page for instructions on sending a check. Thank you for any help you can give, it is MUCH appreciated!