Duke!!
April, 2016!! - The Duke has been adopted!!!
HAPPY NEW LIFE!! Somebody just got lucky!
Happy, happy retirement Duke!!
HIP HIP HOOOORAY!!
Meet The Duke!!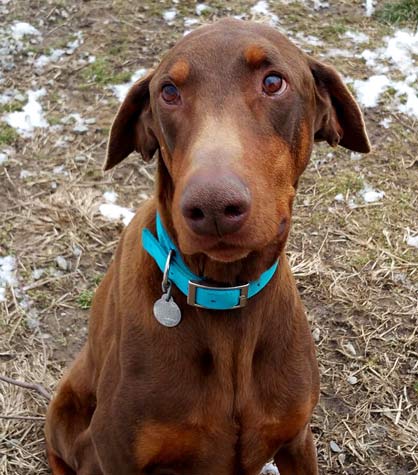 I'm ALL ears!! While you're here you'll see - I DON'T have a bad side!!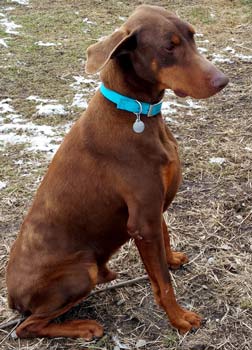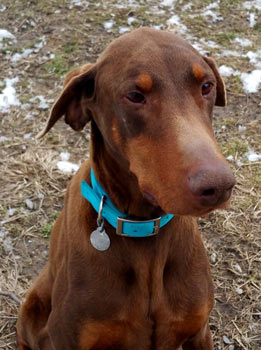 Okay Pilgrim! Right Face, Eyes Right... Front & Center!!
Please take a look at my BFF Miss Abby!!
Handsome 7 year-old Duke came to rescue with his best friend Abby after his owners lost their home and business. A relative took them in and although these two sweet dogs were perfectly house trained, they threw them outside where they "lived" for 2 years. When their previous owners found out about their situation they got them back and brought them to Southwest Ohio Doberman Rescue. It is hard to imagine two sweeter dogs than Abby and Duke. They are dog, cat, and kid friendly. They know sit, down, and shake and play nicely with their toys. They even put themselves to bed at night as their foster mom leaves their kennel doors open for them. They do not need to be crated but feel safe sleeping in their crates. They eat nicely in the same room with the other foster dogs in the home. They may be 7 but you would never know it as they are young-looking and acting. All these two lovely Seniors need to be happy is to live inside the home with their family and get petted, to snuggle, and play with you. This bonded pair are described by their foster mom as a delight. Unfortunately, when Duke saw the vet they saw that his heart is enlarged and he will be seeing a cardiologist to rule out DCM. These two sweethearts have been together since they were puppies and it has been decided they will not be separated but will need to go to a home who will adopt and love them both for the rest of their days! You can visit BFF Abby here http://www.doberman911.org/seniors/cases/oh_abby.html.
Special Needs If Any: Diagnostics for now.
Geographic areas you adopt to: Rescue will consider applications throughout the U.S. and Canada providing a home visit can be done.
Contact Information: If you are interested in adopting a Senior, please visit the Southwest Ohio Doberman Rescue (SWODR) website at www.swohiodoberescue.org to submit an application. or by e-mail at swohdoberescue@aol.com. Southwest Ohio Doberman Rescue will consider applications from throughout the U.S. and Canada, provided we can get a home visit done. Travel to meet the dog and transportation of the dog to its new home (ground only) are the responsibility of the adopter. See our website for further details. An application is required.