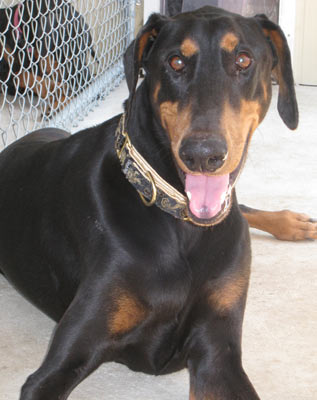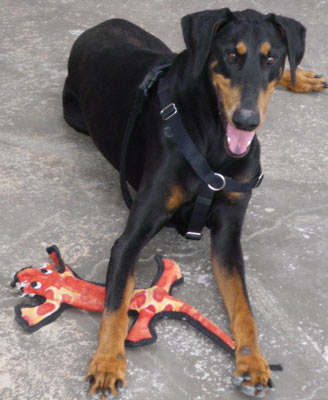 Meet Mr. Nathan!! And, his lizard?? Good thing it's not a hot dog says Nathan!!

Nathan is an 8 year-old Senior boy who's owners left him at the Dallas, TX city shelter, heartworm positive and with no hope of even being placed on the adoption list. Rescue was given the standard 3 days to pull him or he would be euthanized. Now safely with San Antonio Doberman Advocacy and Rescue Nathan has a second chance. He is a gentle and quiet boy who has an old injury to his hip but gets around well. He is good on the leash and enjoys taking walks. He is house broken, does not destroy anything when left alone in the home, knows sit, down, stay and will give you his paw. Nathan would love being your companion as you watch TV in the evening but would be best as an only dog or with one more dominant than he is.

Special Needs if any: Needs an anti-inflammatory for an old hip injury.


Geographic areas: TX and surrounding states if a home check can be arranged.

Contact Information:
Name: Margo Marsh
Rescue: San Antonio Doberman Rescue
Phone Numbers: 830-985-3853
Email: mjmmarsh@msn.com

.