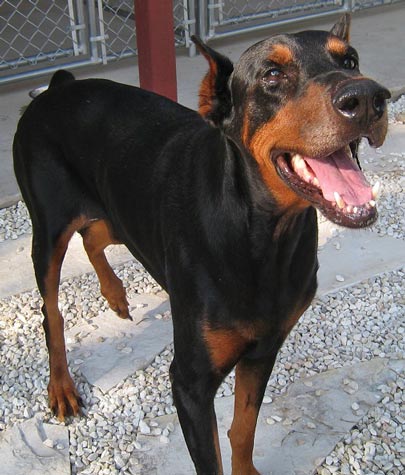 Meet Miss Mandie!! She is now really FREE - FREE from idiots!!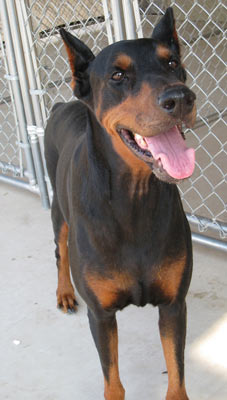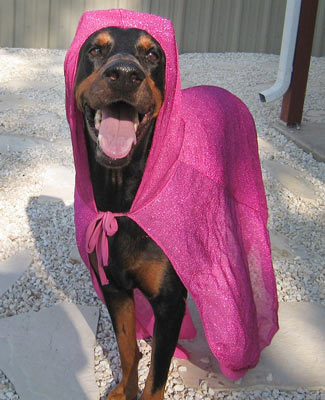 She's ready to be your Pen Pal Pink Princess!!
Ready for a day at the Spa!

Eight year-old Mandie was found chained to a tree with a Post-It note on her head that said: "FREE" - demonstrating just how horrible humans can be. What kind of human could do this to a sweet, Senior dobie girl?? San Antonio Doberman Rescue stepped in and pulled her from the local Animal Control and reassured her that everything was going to be all right. Mandie was found to have severe arthritis in both hips making it very painful for her to move around. The vet suggested the rescue do a bilateral hip replacement but given the expense and long recovery time associated with this they have opted to have the second suggested surgery which is an FHO procedure. They will do the worst hip first and see if the second is needed. In spite of her pain, Mandie is a beautiful, sweet, and happy girl who loves the attention and care she's getting by the angels who rescued her.

Special Needs if any: Pain meds for arthritis pain and will have an FHO procedure on her hips.

Geographic areas: Not applicable

Contact Information:
Name: Margo Marsh
Rescue: San Antonio Doberman Rescue
Phone Numbers: 830-985-3853
Email: mjmmarsh@msn.com

.