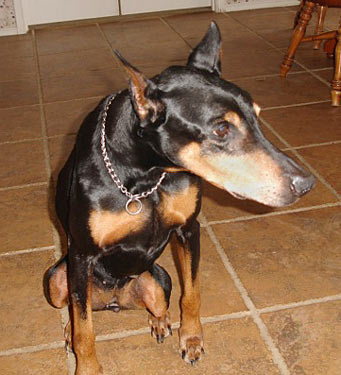 It took 14 years to finally be delivered to heaven... Better late than never!!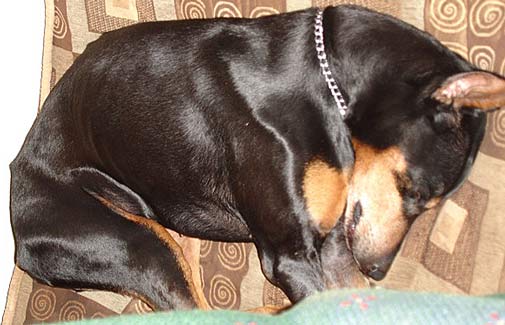 It can be nap time whenever I say so!! Sigh...

:Meet the beautiful Miss Lacy. Owned by one family since she was 6 wks old she was surrendered to Margo at the San Antonio Doberman Advocacy and Rescue because they no longer wanted to be bothered by the care of an elderly Doberman. Given her physical condition it is clear that the care they have given her these last years was minimal. When she arrived at the rescue she was emaciated and all her teeth were broken. She has been placed on a prescription diet and is now eating well. She also has very little sight but Margo feels she will learn to navigate her new surroundings well as soon as she knows she is in a safe and loving environment. Lacy is a sweet Dobergirl who craves love and attention after being kept in a cold garage in a crate this past winter. She has never shown any aggression towards anyone and gets along well with other dogs and children. Miss Lacy is well trained and knows all her basic commands like sit, stay, down and heal. This wonderful Senior needs a loving home with lots of care and attention to complete her life.

Special Needs if any: Lacy Proin for incontinence and a low residue prescription diet. Is frightened by loud noises and has little vision left.

Geographic areas: Anywhere if a home visit can be preformed.

Contact Information
Name: Margo Marsh
Rescue: San Antonio Doberman Rescue
Phone Numbers: 830-985-3853
Website:
Email: mjmmarsh@msn.com

Special Medical Needs (if any): none

Contact Information: San Antonio Doberman Rescue , Margo Marsh, 830-985-3853

Please contact Margo by e-mail at mjmmarsh@msn.com , or, visit the website at San Antonio Doberman Rescue for adoption information and application.

.