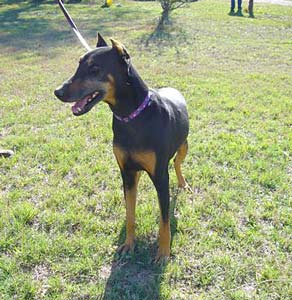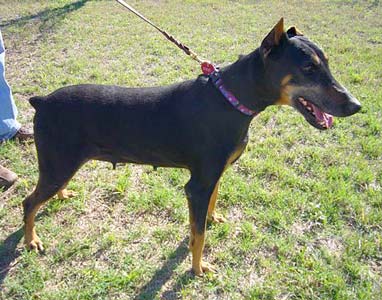 :Duchess was found on the side of the road eating road kill she was picked up by a kind lady who called us. This is sure no way to end up in one's Golden Years! But, we will do everything possible to be sure that this Duchess fortunes have changed for good! She is on the small side but is something else can stand her ground with the best. She has a heart the size of the state of Texas itself!! The Duchess just loves to be inside and loves to play with her toys.

Geographic area within which rescue will place the Dobe: anywhere

Contact Information
Name: Margo Marsh
Rescue: San Antonio Doberman Rescue
Phone Numbers: 830-985-3853
Website:
Email: mjmmarsh@msn.com

Special Medical Needs (if any): none

Contact Information: San Antonio Doberman Rescue , Margo Marsh, 830-985-3853

Please contact Margo by e-mail at mjmmarsh@msn.com , or, visit the website at San Antonio Doberman Rescue for adoption information and application.

.