Maxamus!
July, 2015 - Rest In Peace dear Mr. Maxamus!

You are so very loved forever!!
Meet Mr. Maxamusl!!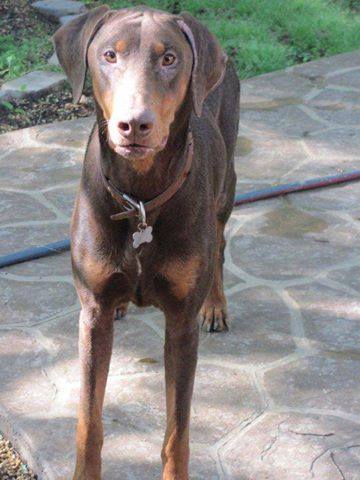 My Foster Mom is getting more pix so you can see how handsome I am - Max Handsome!!
Poor 7 year-old Maxaums has had a very heard life living on the end of a chain without medical care. When Pinsch of Heaven Doberman Rescue heard about his situation they convinced his owner to turn him over. Although his former owner claims to have loved him so much, he never got any medical care. Upon arrival to rescue he had flea dermatitis and a skin infection with clumps of his hair missing. Also he was heartworm positive requiring him to go through painful, dangerous and expensive heartworm treatment. In spite of his horrible living conditions he is one of the sweetest Dobermans and gets along well with other dogs, children, and cats. Once his heartworm treatment is complete he will be ready for a new forever home and a life without chains.
Special Needs if any: Probably none!
Geographic areas: Within a 10 hour drive of Knoxville, TN.
Contact Information
Rescue Group: A Pinsch of Heaven Doberman Rescue
Location: Knoxville, TN
Contacts: Fallon Houser or Sharon Hall
Phone: Emails only
Website: www.APHDR.org
Email: pinschofheavenrescue@yahoo.com
The Sponsor A Senior program helps Seniors by raising funds for their rescue programs. This helps offset some of the additional costs that come with caring for a senior (diet, medications, supplements, etc.). Please read more about this program on the Sponsor A Senior page.
Mr. Maxamus is looking for a sponsor! The cost to sponsor a Senior Dobe is $40 per month or $480 per year. You can sponsor a Senior for one month, one year, or somewhere in between. To sponsor Mr. Maxamus, use the PayPal button below or visit the Sponsor A Senior page for instructions on sending a check. Thank you for any help you can give, it is MUCH appreciated!