Jingles!
October, 2014 - Rest In Peace dear Mr. Jingles!

You are so very loved forever!!
Meet Mr. Jinglesl!!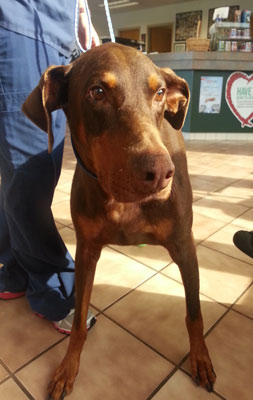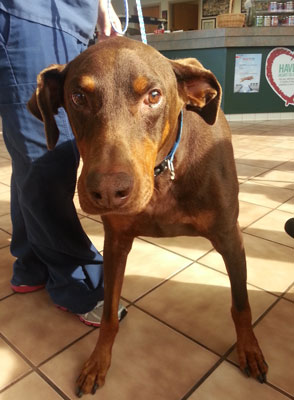 Did somebody say: "Time to go.? I'm READY!!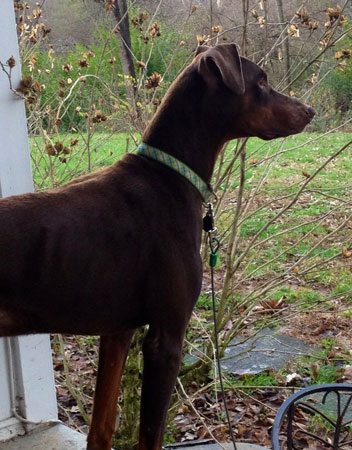 Porch Patrol!! I just love the smell of country air!!
Jingles found himself at 7 years-old in a Kentucky shelter emaciated to the point he would not eat. The rescue angels of Pinsch of Heaven Doberman Rescue stepped in and slowly nursed him back to health. He was also diagnosed with spondylosis in his neck and arthritis in his hips and is being treated for both at the University of Tennessee vet school. Just when his health was taking turn for the better he stepped outside one day to do his business and was bitten on the foot by a copperhead! A large area on his foot soon became necrotic and had to be cleaned up surgically. He will also start therapy to keep that leg and foot mobile. Once he's recovered from all this medical issues he will be seeking a new forever home.
Special Needs if any: Not completely determined at this point.
Geographic areas: Within a 10 hour drive of Knoxville, TN.
Contact Information
Rescue Group: A Pinsch of Heaven Doberman Rescue
Location: Knoxville, TN
Contacts: Fallon Houser or Sharon Hall
Phone: Emails only
Website: www.APHDR.org
Email: pinschofheavenrescue@yahoo.com
The Sponsor A Senior program helps Seniors by raising funds for their rescue programs. This helps offset some of the additional costs that come with caring for a senior (diet, medications, supplements, etc.). Please read more about this program on the Sponsor A Senior page.
Mr. Jingles is looking for a sponsor! The cost to sponsor a Senior Dobe is $40 per month or $480 per year. You can sponsor a Senior for one month, one year, or somewhere in between. To sponsor Mr. Jingles, use the PayPal button below or visit the Sponsor A Senior page for instructions on sending a check. Thank you for any help you can give, it is MUCH appreciated!