Zeke!
November, 2010 - Rest In Peace, dear Zeke!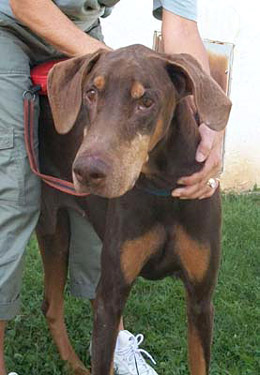 Meet Mr. Zeke!! The ladies just call him "Mr. Awesome!!"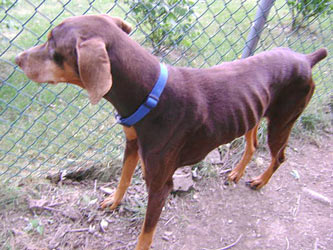 This shouldn't happen to a dog, this shouldn't happen to a Dobe!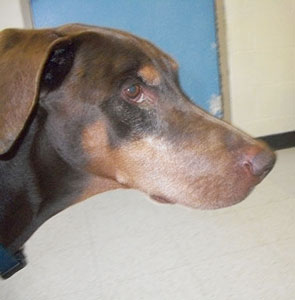 Please make my blue eyes brown again..
My new girfriends do say I'm awesome - I'm beginning to believe it!!
Mr. Zeke was picked up as a stray and taken to a shelter. This sweet 8 year-old was emaciated and must have been on his own for quite a while. Zeke is a gentle giant with grey on his muzzle but now that he has gained weight runs and plays with the younger dogs like a puppy. He is housebroken and very affectionate. If Zeke needs a hug he will let you know with a strong BARK to get your attention. He is very well behaved and has done nothing wrong in his foster home. Zeke loves his food and would enjoy a home with other dogs to play with. He is described as "awesome".
Special Needs if any: None
Geographic areas: Northeastern states including New England
Contact Information
Rescue Group: Distinguished Doberman Rescue, Inc.
Location: Moon Township, PA
Contact: Susan Szyklinski
Phone: Emails only
Website: http://www.ddrinc.net
Email: sszyklinski@gmail.com
The Sponsor A Senior program helps Seniors by raising funds for their rescue programs. This helps offset some of the additional costs that come with caring for a senior (diet, medications, supplements, etc.). Please read more about this program on the Sponsor A Senior page.
Mr. Awesome Zeke is looking for a sponsor! The cost to sponsor a Senior Dobe is $30 per month or $360 per year. You can sponsor a Senior for one month, one year, or somewhere in between. To sponsor Mr. Zeke, use the PayPal button below or visit the Sponsor A Senior page for instructions on sending a check. Thank you for any help you can give, it is MUCH appreciated!