Petie!
April, 2012 - Rest In Peace, dear Mr. Petie!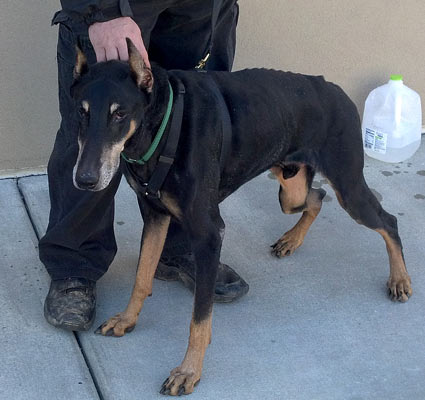 Meet Mr. Petie - a case study in a life of neglect - one look at his eyes tells his tale.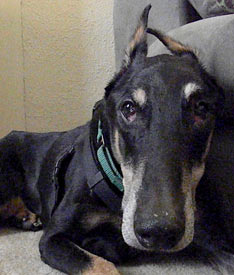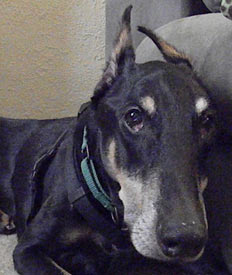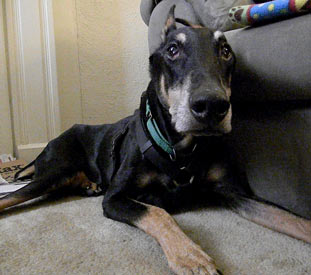 Mr. Petie's eyes speak: Will you be mine? You're not kidding? REALLY??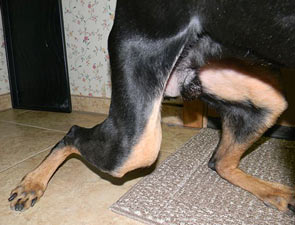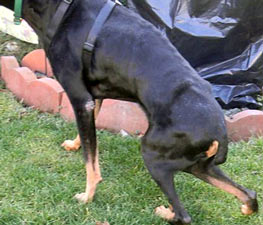 No, this is not my Ninja Turtle pose - it's an ignored ACL/CCL injury,
coupled with my Wobbler's-like spinal issues...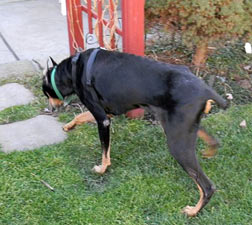 This is my Forever Rehab Heaven!! YESSSSS!!
Sad Petie is an 11 year-old Doberman who's owner became terminally ill and was no longer able to care for him. Understandably he is is anxious and confused but he is starting to feel more comfortable in his new foster home. He has Wobblers and an old cruciate injury that was left untreated and is now scarred over. He has been placed on thyroid meds and has a heart murmur. Inspite of all his medical troubles his bloodwork is excellent. He is being spoiled and loved by his foster parents and he seems to be enjoying the attention, love, treats, and toys. Petie loves cuddling and will remain with this foster family for the rest of his days.
Special Needs if any: Inexpensive thyroid medication
Geographic areas: Northeastern states including New England
Contact Information
Rescue Group: Distinguished Doberman Rescue, Inc.
Location: Moon Township, PA
Contact: Susan Szyklinski
Phone: Emails only
Website: http://www.ddrinc.net
Email: sszyklinski@gmail.com
The Sponsor A Senior program helps Seniors by raising funds for their rescue programs. This helps offset some of the additional costs that come with caring for a senior (diet, medications, supplements, etc.). Please read more about this program on the Sponsor A Senior page.
Mr. Petie is looking for a sponsor! The cost to sponsor a Senior Dobe is $40 per month or $480 per year. You can sponsor a Senior for one month, one year, or somewhere in between. To sponsor Mr. Petie, use the PayPal button below or visit the Sponsor A Senior page for instructions on sending a check. Thank you for any help you can give, it is MUCH appreciated!