Major!
February 15 , 2010 - Rest In Peace, dear Major!
Major has succumbed to neglect and age... Sleep and play forever in Sirius' Garden in the Night Sky, Sweet Prince!! You are so loved and will be sorely missed even though your time in heaven was so short!!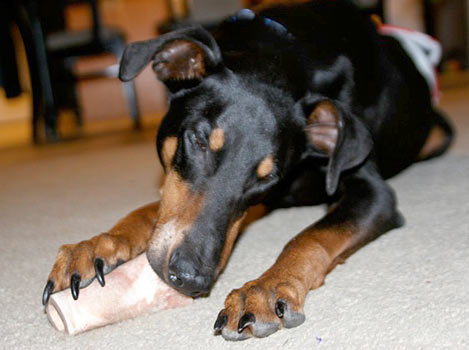 Major is a sweet 9 year-old gentleman who was surrendered to rescue in horrible condition. He was thin, covered in fleas, suffering with spinal issues and incontinence. With lots of love and good care, Major's health has improved. He is the sweetest Senior boy who loves sleeping on the couch and cuddling with his humans. He is also is content to play and with this toys and chew on marrow bones. Major is a hospice dog and a joy to his foster family. He will never have to worry about fleas, food, or pain for the rest of his days.
Special Needs if any: Requires pain meds and wears diapers due to incontinence issues.
Contact Information
Rescue Group: Distinguished Doberman Rescue, Inc.
Location: Moon Township, PA
Contact: Susan Szyklinski
Phone: Emails only
Website: http://www.ddrinc.net
Email: sszyklinski@gmail.com
The Sponsor A Senior program helps Seniors by raising funds for their rescue programs. This helps offset some of the additional costs that come with caring for a senior (diet, medications, supplements, etc.). Please read more about this program on the Sponsor A Senior page.
Major is looking for a sponsor! The cost to sponsor a Senior Dobe is $30 per month or $360 per year. You can sponsor a Senior for one month, one year, or somewhere in between. To sponsor dear Major, use the PayPal button below or visit the Sponsor A Senior page for instructions on sending a check. Thank you for any help you can give, it is MUCH appreciated!