Leo!
February, 2012- Rest In Peace, dear Mr. Leo!

You will be remembered with great love!!
January 2011 UPDATE: We are so happy to tell you that Mr. Leo was misdiagnosed with cancer!! HE IS CANCER FREE AND READY TO BE LOVED IN A FOREVER HOME!! HIP! HIP! HOOOOOORAY!!!
May, 2010 UPDATE: Dear Leo has been diagnosed with cancer and will remain in hospice care with DDRI to live in love and comfort until he is ready for shine forever...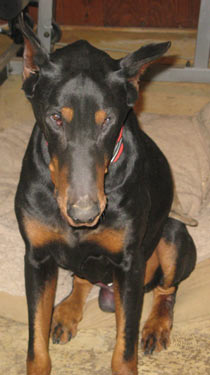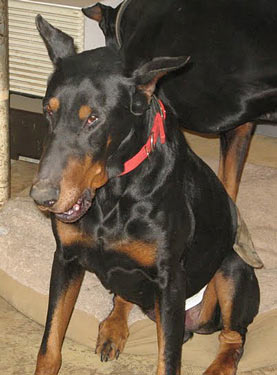 I'm like a fine wine!! Aged to PERRRRRFECTION!!
"Hi there! My name is Leo - not the Lion, but Leo the Dobergent. I came to rescue with Crystal and two other Dobergals because our owner could no longer keep us. I have been a busy, busy boy most of my life. You see, I was the only male with four female dogs - so yah .... busy is putting it mildly. I am now 8 years-old and very thankful that I can just be a normal furkid. No more pressure about mating with the girls! I can just be me ... and let me tell ya - it's awesome!
I'm a really good boy in foster care and I get along with all of the other dogs - male and female, small or large. Oh yeah and I like cats too. I'm totally house trained now that I've been neutered so don't worry about that. My right foot has a deformity and they're not sure if it's a bone growth, or just hardened due to lick sores or callouses. Maybe even an old injury. I am a little stiff with arthritis but now that I'm on a joint supplement I'm feeling much better. Oh .. and don't think this slows me down on my walks ... no sir!
I do hope there is a forever home out there looking for a fabulous Senior boy like me. You see, I've been waiting my whole life to be normal and not "Studley". Yes, that was my former name! So, please let me know if you are interested in giving a sweet boy like me a comfy couch for the rest of my days and in return, I promise to give you many Doberkisses and snuggle with you always.
Love, Leo"
Special Needs if any: Joint supplements
Geographic areas: Northeastern states including New England
Contact Information
Rescue Group: Distinguished Doberman Rescue, Inc.
Location: Moon Township, PA
Contact: Susan Szyklinski
Phone: Emails only
Website: http://www.ddrinc.net
Email: sszyklinski@gmail.com
The Sponsor A Senior program helps Seniors by raising funds for their rescue programs. This helps offset some of the additional costs that come with caring for a senior (diet, medications, supplements, etc.). Please read more about this program on the Sponsor A Senior page.
Mr. Leo is looking for a sponsor! The cost to sponsor a Senior Dobe is $30 per month or $360 per year. You can sponsor a Senior for one month, one year, or somewhere in between. To sponsor Mr. Leo, use the PayPal button below or visit the Sponsor A Senior page for instructions on sending a check. Thank you for any help you can give, it is MUCH appreciated!