Lena!
June, 2013 - Rest In Peace, dear Miss Lena!!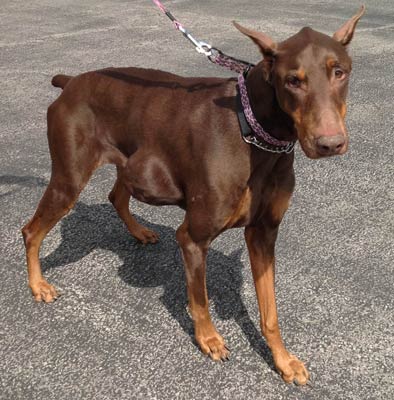 Meet Miss Lena!!
Stray? Most likely abandoned with her "clone"...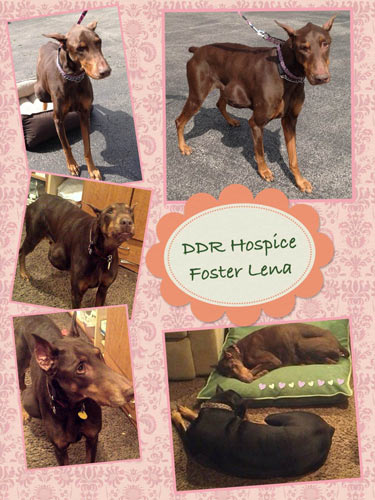 Aaaah yes, lonesome no more!!
Will you help Miss Lena enjoy love and softness now??
Sweet Lena is an 8 year-old Senior who was found as a stray in Ohio. She was intercepted by a wonderful and caring group who made sure she made it safely to DDR. Beautiful Lena unfortunately has spindle cell sarcoma and the only treatment is to have the mass on her side removed to increase her quality of life. Vets say it will most likely grow back and need removal again. Lena has probably had it removed in the past because there is already a scar over the mass. In spite of her condition, she is a very happy and otherwise healthy girl who has adapted well to her foster home and gets along well with her foster siblings. Lena is quite the "leaner" and loves, loves, loves attention. Especially from her new foster mom.
Special Needs if any: Due to Lena's spindle cell sarcoma she will stay in her foster home for the rest of her days.
Geographic areas: N/A
Contact Information
Rescue Group: Distinguished Doberman Rescue, Inc.
Location: Moon Township, PA
Contact: Susan Szyklinski
Phone: Emails only
Website: http://www.ddrinc.net
Email: sszyklinski@gmail.com
The Sponsor A Senior program helps Seniors by raising funds for their rescue programs. This helps offset some of the additional costs that come with caring for a senior (diet, medications, supplements, etc.). Please read more about this program on the Sponsor A Senior page.
Miss Lena is looking for a sponsor! The cost to sponsor a Senior Dobe is $40 per month or $480 per year. You can sponsor a Senior for one month, one year, or somewhere in between. To sponsor Miss Lena, use the PayPal button below or visit the Sponsor A Senior page for instructions on sending a check. Thank you for any help you can give, it is MUCH appreciated!