Cassie!
June, 2010 - Rest In Peace, dear Cassie!
Dear Miss Cassie... Sleep and play forever in Sirius' Garden in the Night Sky, Sweet Princess!! You are so loved and will be sorely missed even though your time in heaven was so short!!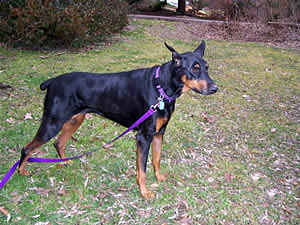 Cassie is looking for a forever home! She has been in a couple homes in her life and she needs one and final home! She was turned over to DRI the first time as an owner turn in. Cassie and the families female pit bull weren't getting along and they decided it would be best for her to come to DRI. We placed her in another home and due to the financial situation many families are faced with today they could no longer keep her. She is black/tan and cropped/docked. She is spayed and UTD on shots. She is house trained and crate trained. She is just plain and simply BEAUTIFUL. She would do best in a home where she is the only dog or possibly just with a male dog or a submissive female. A dominant female mixed with her wont work. Cassie lived with children in her prior family but she would prefer a home without kids.
Cassie is very loving and sweet. She is protective of her person and family. Cassie has a dominant female personality that is why she would do best with a male or being an only dog. Cassie is currently sharing the home with another male foster dog and they get along fine! Oh and had to mention she is GORGEOUS!!!
Medical issues: None apparent.
Geographic area within which rescue will place the Dobe: Within a couple hours of the Pittsburgh, PA area.
Contact Information
Name: Carly Joseph
Rescue: Doberman Rescue Inc.
Phone Numbers: 412-576-8704 724-251-9024
Website: www.dobermanrescuei nc.com
Email: carlyj0607@hotmail. com
The Sponsor A Senior program helps Seniors by raising funds for their rescue programs. This helps offset some of the additional costs that come with caring for a senior (diet, medications, supplements, etc.). Please read more about this program on the Sponsor A Senior page.
Cassie is looking for a sponsor! The cost to sponsor a Senior Dobe is $30 per month or $360 per year. You can sponsor a Senior for one month, one year, or somewhere in between. To sponsor Cassie, use the PayPal button below or visit the Sponsor A Senior page for instructions on sending a check. Thank you for any help you can give, it is MUCH appreciated!