Buddy!
July, 2010 - Rest In Peace, dear Buddy!
Dear Mr. Buddy... Sleep and play forever in Sirius' Garden in the Night Sky, Sweet Prince!! You are so loved and will be sorely missed even though your time in heaven was so short!!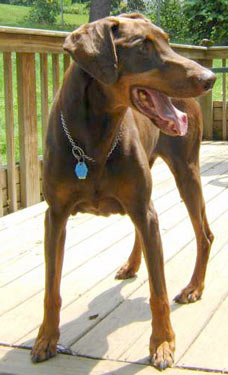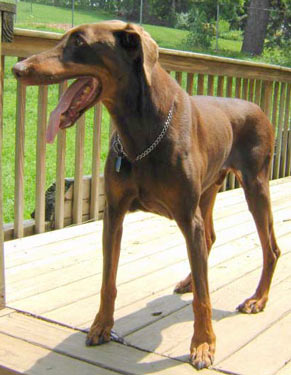 Meet your next Buddy!! Yes??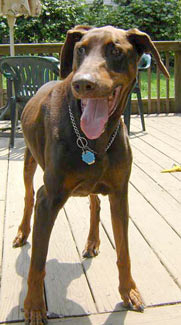 Hey!! I will be the Best Bud you could ever have!! Trust me...
Sweet Senior boy Buddy is 9 years-old and was recently brought to rescue because his beloved human passed away at a young age. He missed his human so much he quit eating and only pined away for the person he loved and trusted. Buddy was a devoted companion and has only started to eat again so he is putting on a bit more weight. He is playful with his foster mom and beginning to bond again. He is housebroken and well behaved but is very stressed by the other dogs in his foster home. Buddy should be an only dog. If you are seeking a sweet Senior boy to share your life you couldn't do better than Buddy.
Special Needs if any: None
Geographic areas: Northeastern states including New England
Contact Information
Rescue Group: Distinguished Doberman Rescue, Inc.
Location: Moon Township, PA
Contact: Susan Szyklinski
Phone: Emails only
Website: http://www.ddrinc.net
Email: sszyklinski@gmail.com
The Sponsor A Senior program helps Seniors by raising funds for their rescue programs. This helps offset some of the additional costs that come with caring for a senior (diet, medications, supplements, etc.). Please read more about this program on the Sponsor A Senior page.
Mr. Buddy is looking for a sponsor! The cost to sponsor a Senior Dobe is $30 per month or $360 per year. You can sponsor a Senior for one month, one year, or somewhere in between. To sponsor Mr. Buddy, use the PayPal button below or visit the Sponsor A Senior page for instructions on sending a check. Thank you for any help you can give, it is MUCH appreciated!