Autumn!
February, 2014 - Rest In Peace, dear Miss Autumn!!
Meet Beautiful Miss Autumn!!


She thinks she's more of a Miss Spring!! And... she'll never know otherwise!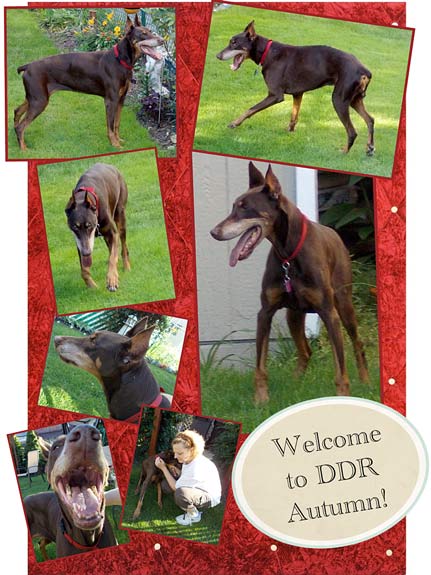 Look at the pretty flowers!! Doesn't look like fall around this Miss Autumn!!
Sweet Autumn was surrendered to rescue because her elderly owner was in declining health and could no longer care for her. The lady's daughter took her in but lived where dogs were not permitted so she reached out to rescue to help. DDR promised they would care for this Senior girl for the rest of her days. Miss Autumn is a stunning and elegant 12 year-old who has a super sweet personality. She is a typical red girl - determined, opinionated, and incredibly loving. This little pumpkin steals the heart of any one she meets. Miss Autumn has multiple medical issues that are being addressed. A wart on her ear burst and became infected, she has multiple masses that needed to be removed including one on her heart that is most likely putting pressure on her heart and causing labored breathing. She has wobblers-like symptoms but can maneuver around well on carpet but doesn't do well on laminate or tile. She has been started on enalapril for her heart and gabapentin to help with discomfort. All in all, she seems to be feeling better and is happy in her foster home where she will spend the rest of her days. Won't you help make her days extra special every day with a sponsorship?
Special Needs if any: Heart issues and Wobblers.
Geographic areas: Not applicable.
Contact Information
Rescue Group: Distinguished Doberman Rescue, Inc.
Location: Moon Township, PA
Contact: Susan Szyklinski
Phone: Emails only
Website: http://www.ddrinc.net
Email: sszyklinski@gmail.com
The Sponsor A Senior program helps Seniors by raising funds for their rescue programs. This helps offset some of the additional costs that come with caring for a senior (diet, medications, supplements, etc.). Please read more about this program on the Sponsor A Senior page.
Miss Autumn is looking for a sponsor! The cost to sponsor a Senior Dobe is $40 per month or $480 per year. You can sponsor a Senior for one month, one year, or somewhere in between. To sponsor Miss Autumn, use the PayPal button below or visit the Sponsor A Senior page for instructions on sending a check. Thank you for any help you can give, it is MUCH appreciated!