Zeus!!
February, 2012- Rest In Peace, dear Mr. Zeus!

You will be remembered with love!!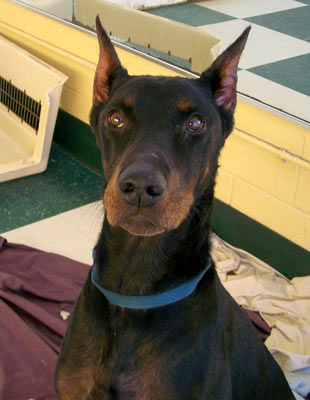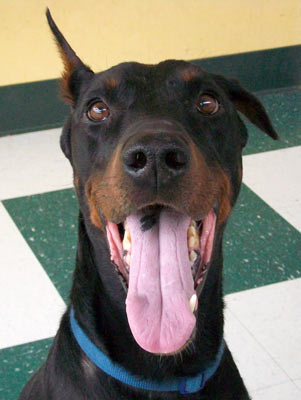 Meet Sir Zeus!! The god of a thousand ear-do's!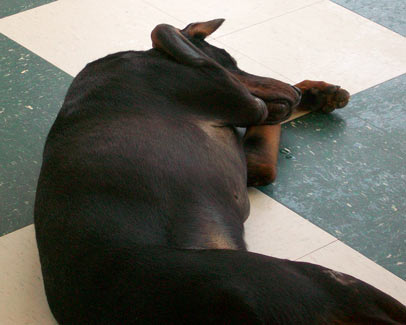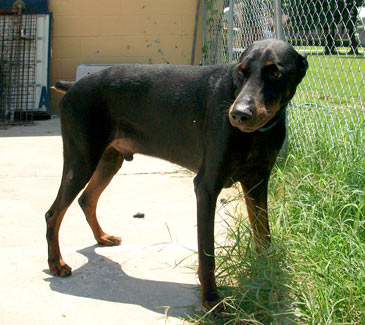 Oh me, oh my!! Can we have a little quiet, please? Why's everyone picking on me?
Sweet 9 year-old Zeus was recently surrendered to a rescue when his owners lost their home. In his foster home, the other dogs picked on him which landed him a spot in a vet clinic. Since coming to SWODR he has done well with female dobes but does not care for little dogs. Zeus needs a calm, quiet home as an only dog or possibly another female. He loves all people and gets along great with his foster's 10 year-old daughter so older children would be fine. He knows his commands of "sit" and "down" and when he downs he flops over for a congratulatory belly rub for a job well done. Zeus is very expressive with his ears and loves to sleep with a paw over one, especially if his fellow foster dogs are being loud.
Special Needs if any: None
Geographic areas: Rescue will consider applications throughout the U.S. and Canada providing a home visit can be done.

Contact Information: If you are interested in adopting Sir Zeus, please visit the Southwest Ohio Doberman Rescue (SWODR) website at www.swohiodoberescue.org to submit an application. or by e-mail at swohdoberescue@aol.com. Southwest Ohio Doberman Rescue will consider applications from throughout the U.S. and Canada, provided we can get a home visit done. Travel to meet the dog and transportation of the dog to its new home (ground only) are the responsibility of the adopter. See our website for further details. An application is required.
The Sponsor A Senior program helps Seniors by raising funds for their rescue programs. This helps offset some of the additional costs that come with caring for a senior (diet, medications, supplements, etc.). Please read more about this program on the Sponsor A Senior page.
Sir Zeus is looking for a sponsor! The cost to sponsor a Senior Dobe is $30 per month or $360 per year. You can sponsor a Senior for one month, one year, or somewhere in between. To sponsor Sir Zeus, use the PayPal button below or visit the Sponsor A Senior page for instructions on sending a check. Thank you for any help you can give, it is MUCH appreciated!