Scarlett!
November, 2010 - Rest In Peace, dear Scarlett!
Scarlett in Cincinnati, Ohio
Here is Ms. Scarlett. She is 8 years old or so, very petite and very loving. She is red, with a docked tail and natural ears. She only weighs about 55 pounds, but she is a Dobergirl through and through! She is a bit bossy with other dogs, but lives with a laid-back male Rottweiler and does fine. She is not good with cats or small dogs, however. She runs like a miniature deer when she is out in the yard, and she loves to sunbathe. She was used as a brood bitch by a backyard breeder. She has some calluses on her hips that may never go away, but they don't hurt her. Scarlett needs to find her Rhett and live happily ever after.
Contact Information: If you are interested in adopting Scarlett, please visit the Southwest Ohio Doberman Rescue (SWODR) website at www.swohiodoberescue.org to submit an application. or by e-mail at swohdoberescue@aol.com. Southwest Ohio Doberman Rescue will consider applications from throughout the U.S. and Canada, provided we can get a home visit done. Travel to meet the dog and transportation of the dog to its new home (ground only) are the responsibility of the adopter. See our website for further details. An application is required.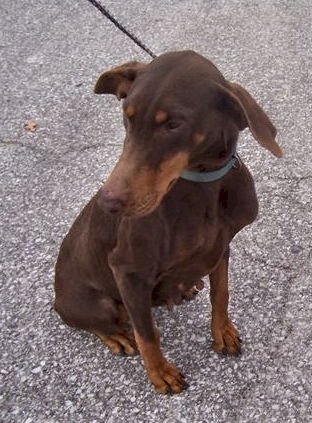 The Sponsor A Senior program helps Seniors by raising funds for their rescue programs. This helps offset some of the additional costs that come with caring for a senior (diet, medications, supplements, etc.). Please read more about this program on the Sponsor A Senior page.
Scarlett is looking for a sponsor! The cost to sponsor a Senior Dobe is $30 per month or $360 per year. You can sponsor a Senior for one month, one year, or somewhere in between. To sponsor Scarlett, use the PayPal button below or visit the Sponsor A Senior page for instructions on sending a check. Thank you for any help you can give, it is MUCH appreciated!