Sal!
December, 2012 - Rest In Peace, dear Mr. Sal!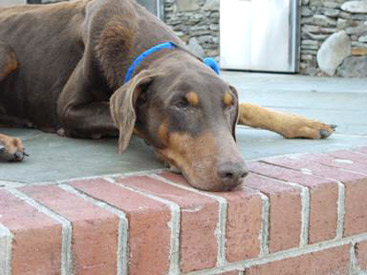 Meet Mr. Sal! Looks like he's waiting for the other shoe to drop...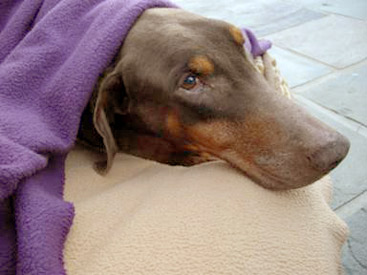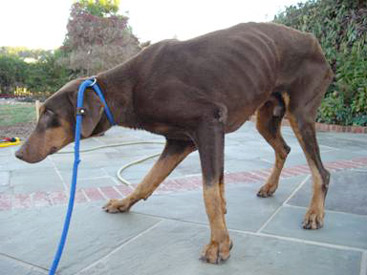 So far things are looking up! Please cross you paws so he gets through heartworm treatment!!
8 Year-old Salvation was picked up as a stray in North Carolina and the shelter staff sent out a plea for a rescue to help this sweet Senior boy. Emaciated, heartworm positive and suffering from hip pain he still had the eyes of an old trusting soul. North Coast Doberman Rescue answered the call. Sweet Sal is soaking up all the love he's receiving and does will with the other dogs in the foster home. Sal is now gaining weight and if you look closely a sparkle can be seen in his eyes.
Special Needs if any: None
Geographic areas: Eastern/Midwest part of the United States
Contact Information:
Location: Columbus, OH
Contact: Judi Pirozzoli
Phone:
Website: www.northcoastdobermanrescue.org
Email: Northcoastdobe@aol.com
The Sponsor A Senior program helps Seniors by raising funds for their rescue programs. This helps offset some of the additional costs that come with caring for a senior (diet, medications, supplements, etc.). Please read more about this program on the Sponsor A Senior page.
Mr. Sal is looking for a sponsor! The cost to sponsor a Senior Dobe is $30 per month or $360 per year. You can sponsor a Senior for one month, one year, or somewhere in between. To sponsor Mr. Sal, use the PayPal button below or visit the Sponsor A Senior page for instructions on sending a check. Thank you for any help you can give, it is MUCH appreciated!