Ruthie!!
April, 2014!! - Miss Ruthie has been adopted!!!
Somebody just got lucky!
Happy, happy retirement Miss Ruthie!!
HIP HIP HOOOORAY!!
Meet Beautiful Miss Ruthie!!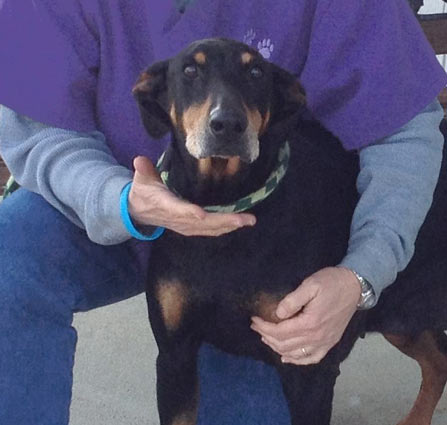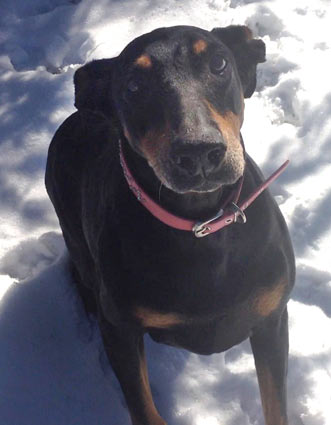 She Says: "Knock, Knock... Who's HERE??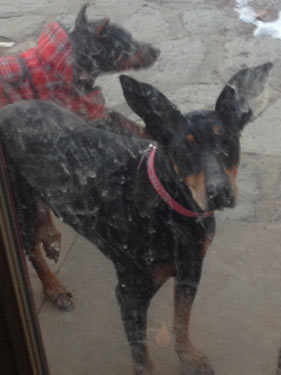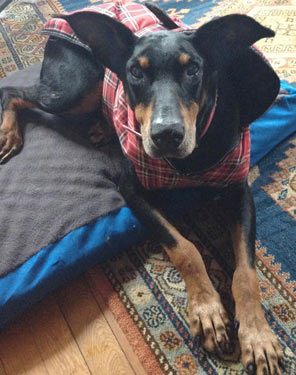 Na Na Na Na Na Na Na... BATGIRL!!
Meet sweet 9 year-old Ruthie. Some heartless person dumped her off at the intersection of two lonely country roads on a cold February day. A kind soul found her and took her to the shelter with the hope that the owner would show up looking for her. When the shelter workers saw Ruthie they knew on one was ever coming. She has been bred so many times she has huge mammary cysts, one of which had ripped open from the pressure of it's size, and was draining. Southwest Ohio Doberman Rescue decided they weren't going to let this Senior treasure go without a fight. She will be scheduled for surgery to have the cysts removed and a complete dental. Years of trying to chew her way out of a crate has destroyed her teeth. Given all Ruthie has been through it is clear she holds no grudges. She loves life and everyone in it. She plays hard with the other dobes she is fostered with and has the funniest habit of sneezing from excitement the entire time she's playing. Her cutest habit is holding her natural ears up very high which makes her look a bit like a bat. Ruthie is a fearless, sweet, loyal, and loving Doberman who gets along well with dogs and cats. Miss Ruthie's Foster Mom was so taken by her that she wrote a wonderful biography of this beautiful DobeLady she is presently caring for during her rehabilitation!! THANK YOU Kelly! Click Ruthie's bio to read her story now - it will make you happy to know there are such RescueAngels in the world!
Special Needs If Any: None
Geographic areas you adopt to: Rescue will consider applications throughout the U.S. and Canada providing a home visit can be done.
Contact Information: If you are interested in adopting a Senior, please visit the Southwest Ohio Doberman Rescue (SWODR) website at www.swohiodoberescue.org to submit an application. or by e-mail at swohdoberescue@aol.com. Southwest Ohio Doberman Rescue will consider applications from throughout the U.S. and Canada, provided we can get a home visit done. Travel to meet the dog and transportation of the dog to its new home (ground only) are the responsibility of the adopter. See our website for further details. An application is required.