Roscoe!
August, 2013 - Rest In Peace dear Roscoe!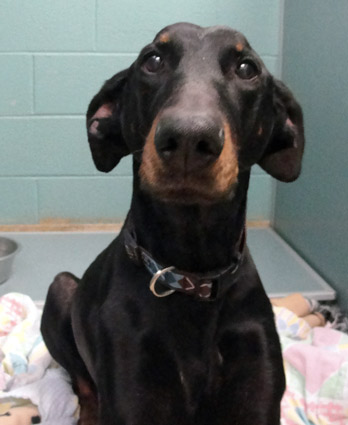 Meet Mr. Roscoe!! He'd love to be the apple of YOUR eye!!!
Go ahead... try and resist this face! It's futile!!
Sweet 9 year-old Roscoe was adopted over a year ago from a rescue who did not do home visits. He was found abandoned recently at a Doggie Resort in bad shape. He was severely under-weight with muscle atrophy and limited use of his back legs. The wonderful people of the resort took him in and have been nursing him back to health. North Coast Doberman Rescue met him and it was love at first site. This lovely boy is very social, good with other dogs, and in spite of the way he's been treated, loves all people. Roscoe will be seeing a vet soon to get a second opinion on his rear end weakness.
Special Needs if any: Will be evaluated for his rear end weakness
Geographic areas: Ohio and regional
Contact Information:
Name: Teka Clark
Phone: 614-482-4117
Website: Forever Dobes Rescue
Email: dobesnohio@yahoo.com
The Sponsor A Senior program helps Seniors by raising funds for their rescue programs. This helps offset some of the additional costs that come with caring for a senior (diet, medications, supplements, etc.). Please read more about this program on the Sponsor A Senior page.
Mr. Roscoe is looking for a sponsor! The cost to sponsor a Senior Dobe is $40 per month or $480 per year. You can sponsor a Senior for one month, one year, or somewhere in between. To sponsor Mr. Roscoe, use the PayPal button below or visit the Sponsor A Senior page for instructions on sending a check. Thank you for any help you can give, it is MUCH appreciated!