Lady!!
November, 2010 - Rest In Peace, dear Lady!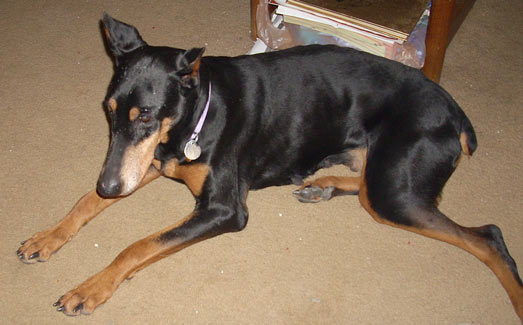 Miss Lady in heaven!!
Will you be my knight in shining armor and love me? I am a LADY!!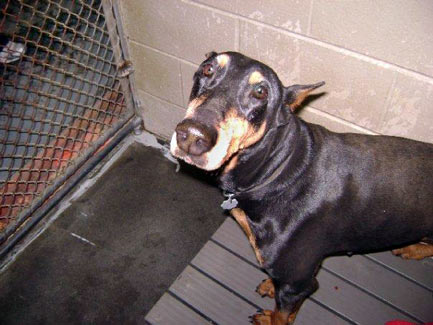 Miss Lady before...
Lady is a 12 year old Senior girl who found herself dumped at a local shelter after being a loving loyal family pet since puppyhood. She does well with other dogs but can't get enough loving from the people around her. Lady bug is so sweet and charming but a bit needy after her recent abandonment. She is perfect in the house and just wants to spend her days being sweer and giving love. Lady is a bit unsteady on her feet and early wobblers is suspected. She will be undergoing further testing to get a more definitive diagnosis. Lady will need a home with very few steps and is much steadier on carpet than tile or wood flooring.
Special Needs if any: On Zubrin for pain and does not do well on stairs
Geographic areas: Eastern/Midwest part of the United States
Contact Information:
Location: Columbus, OH
Contact: Teka Clark
Phone: 330-759-5059
Website: www.northcoastdobermanrescue.org
Email: Northcoastdobe@aol.com
The Sponsor A Senior program helps Seniors by raising funds for their rescue programs. This helps offset some of the additional costs that come with caring for a senior (diet, medications, supplements, etc.). Please read more about this program on the Sponsor A Senior page.
Lady is looking for a sponsor! The cost to sponsor a Senior Dobe is $30 per month or $360 per year. You can sponsor a Senior for one month, one year, or somewhere in between. To sponsor Miss Lady, use the PayPal button below or visit the Sponsor A Senior page for instructions on sending a check. Thank you for any help you can give, it is MUCH appreciated!