Indie!!
October, 2013 - Rest In Peace dear Indie!

You are so very loved forever!!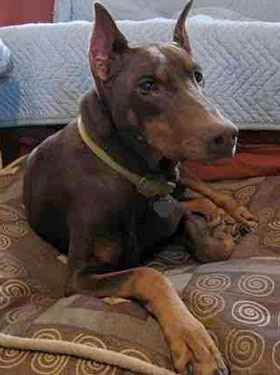 Meet Miss Indie!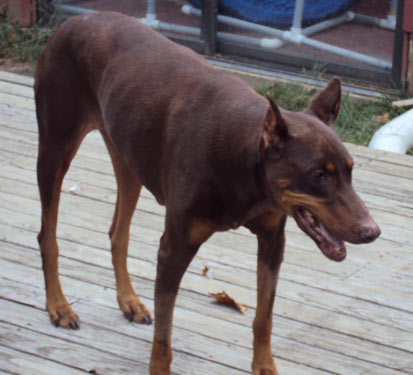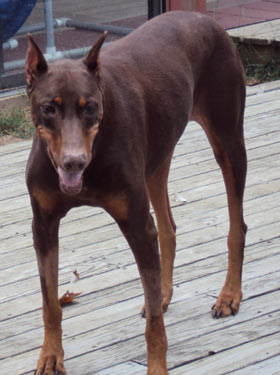 This happy Lady would love to make you as happy as she is!!
Beautiful Senior Lady Indie is 8 years-old and has a very wiggly butt! She originally came to rescue from a shelter and was adopted. She was recently returned because her family was no longer able to care for her. She is doing well in her foster home but needs to have rugs on any slippery floors. She is quite the scavenger so needs to be kept away from things she might try to eat that she shouldn't. Indie recently had surgery after eating a left over corn cob that resulted in an obstruction that had to be surgically cleared. She is an easy girl and she would love to wiggle her way into your home and heart.
Special Needs if any: None
Geographic areas: Prefer local adoption but will consider all qualified applicants.
Contact Information: If you are interested in adopting Mr. Harvey, please visit the Southwest Ohio Doberman Rescue (SWODR) website at www.swohiodoberescue.org to submit an application. or by e-mail at swohdoberescue@aol.com. Southwest Ohio Doberman Rescue will consider applications from throughout the U.S. and Canada, provided we can get a home visit done. Travel to meet the dog and transportation of the dog to its new home (ground only) are the responsibility of the adopter. See our website for further details. An application is required.
The Sponsor A Senior program helps Seniors by raising funds for their rescue programs. This helps offset some of the additional costs that come with caring for a senior (diet, medications, supplements, etc.). Please read more about this program on the Sponsor A Senior page.
Miss Indie is looking for a sponsor! The cost to sponsor a Senior Dobe is $40 per month or $480 per year. You can sponsor a Senior for one month, one year, or somewhere in between. To sponsor Miss Indie, use the PayPal button below or visit the Sponsor A Senior page for instructions on sending a check. Thank you for any help you can give, it is MUCH appreciated!