Gunther!
October, 2013 - Rest In Peace dear Gunther!

You are so very loved forever!!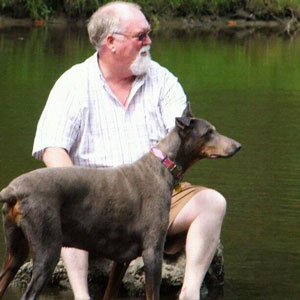 October, 2013 - Rest In Peace

Meet the new and improved Mr. Gunther and his FosterDad Bob!!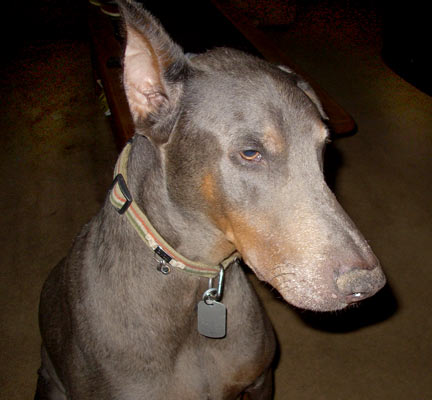 Meet Mr. Gunther! A handsome Dude in a very pensive moment...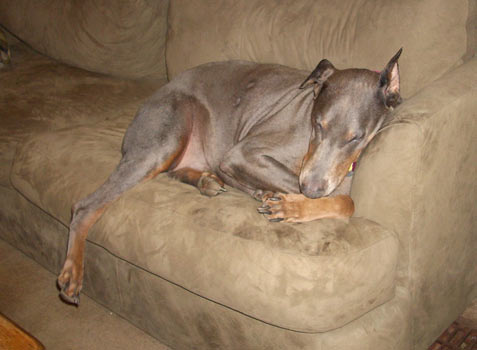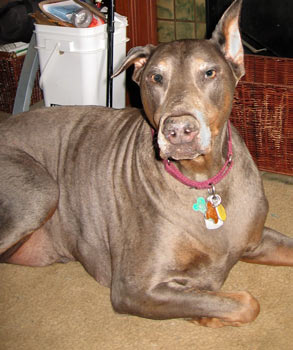 I kinda just blend into that couch, dontcha think??
Hmmmm, dontcha think?? Definitely a question I would like to ask those "people!!"
Soooo Sweet Gunther is a 9 year-old Senior boy who came to NCDR two years ago after being surrendered. He was covered in lumps and bumps, bald, and no longer loved or wanted. This was their loss as Gunther is very loved in his latest foster home. One of his bumps was diagnosed as a degranulated mast cell tumor and it was surgically removed. Gunther was lovingly nursed back to health. He is very sweet, loves toys, tolerates most other dogs, and is somewhat dominant and used to be a bit crabby. Mr. Gunther had a brush with the DobeReaper when suspicious lumps were removed... HAPPY NEWS: B9 for this K9!!! YESSSS!! He was recently diagnosed with early DCM but Mr. G now shares his home with a new FosterFamily who have given him a new lease on life and the cardio meds he needs to enjoy that new lease!! That, and a new DobePal, Stormy!! Check out his new pix!!
Special Needs if any: Thyroid and cardio meds
Geographic areas: N/A
Contact Information:
Name: Teka Clark
Phone: 614-482-4117
Website: Forever Dobes Rescue
Email: dobesnohio@yahoo.com
The Sponsor A Senior program helps Seniors by raising funds for their rescue programs. This helps offset some of the additional costs that come with caring for a senior (diet, medications, supplements, etc.). Please read more about this program on the Sponsor A Senior page.
Mr. Gunther is looking for a sponsor! The cost to sponsor a Senior Dobe is $40 per month or $480 per year. You can sponsor a Senior for one month, one year, or somewhere in between. To sponsor Mr.Gunther, use the PayPal button below or visit the Sponsor A Senior page for instructions on sending a check. Thank you for any help you can give, it is MUCH appreciated!