Greta!!
April, 2016 - Rest In Peace dear Miss Greta!

You are so very loved, forever!!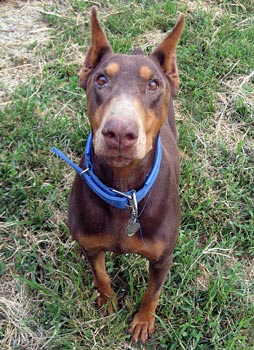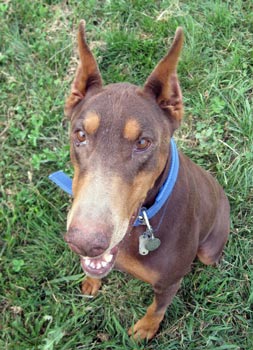 Meet Miss Greta! She' has a simple question for you...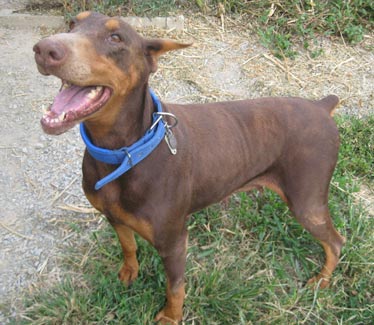 I was USED and abused, would you agree that the next picture should be MY life from now on??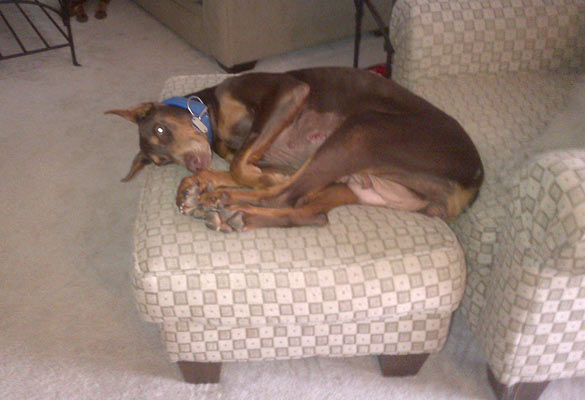 Hmmmm... that's what those things next to the chair are for!!
A throne for a beautiful DobeLady!!
Senior Lady Greta at 8 years-old was no longer going to be able to be bred for puppies so her owners decided they would take her to the local SPCA. When the neighbors heard what they had planned for Greta they feared she'd be euthanized so they offered to take her and took her over to Southwest Ohio Doberman Rescue. During her initial vet visit she was found to have mammary tumors, low thyroid levels, and whip worms. The tumors turned out to be cancerous but the vet is pretty certain that all the cancer was removed. Greta is feeling good and loves to play with the other dogs in her foster home, run around the large yard, and most of all, receive all the the loving attention she can get from her foster parents. She is a sweet dober lady who thinks she's a lap dog, has impeccable house manners, and even listens better than her foster siblings. This Senior girl is a true velcro dobe who gives as much love back as she receives.
Greta is still recovering from her cancer surgery that required 41 staples to close. She will remain in her present foster home until the vet feels more certain that all the cancer was removed.
Special Needs if any: Inexpensive thyroid medication.
Geographic areas: N/A
Contact Information: If you are interested in adopting a Senior, please visit the Southwest Ohio Doberman Rescue (SWODR) website at www.swohiodoberescue.org to submit an application. or by e-mail at swohdoberescue@aol.com. Southwest Ohio Doberman Rescue will consider applications from throughout the U.S. and Canada, provided we can get a home visit done. Travel to meet the dog and transportation of the dog to its new home (ground only) are the responsibility of the adopter. See our website for further details. An application is required.
The Sponsor A Senior program helps Seniors by raising funds for their rescue programs. This helps offset some of the additional costs that come with caring for a senior (diet, medications, supplements, etc.). Please read more about this program on the Sponsor A Senior page.
Miss Greta is looking for a sponsor! The cost to sponsor a Senior Dobe is $40 per month or $480 per year. You can sponsor a Senior for one month, one year, or somewhere in between. To sponsor Miss Greta, use the PayPal button below or visit the Sponsor A Senior page for instructions on sending a check. Thank you for any help you can give, it is MUCH appreciated!