Ginger!!
October, 2014!! - Miss Ginger has been adopted!!!
Somebody just got lucky!
Happy, happy retirement Miss Ginger!!
HIP HIP HOOOORAY!!
Meet Miss Ginger!!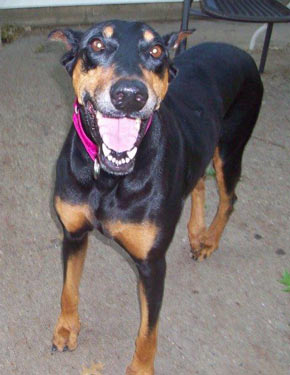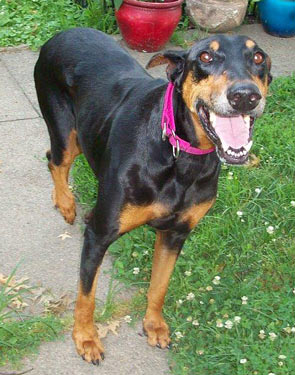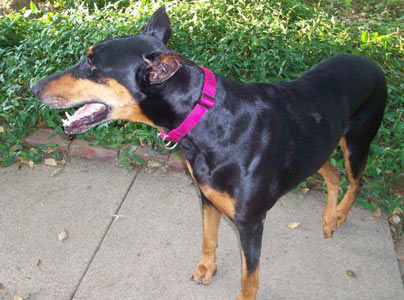 Hey... Wanna meet my puddy tat???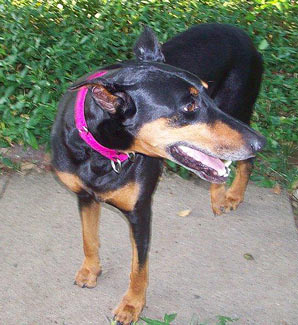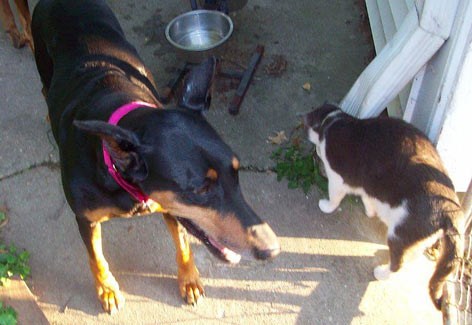 Well? I think he/she's just tooooo cute!! Haven't seen the plumbing yet!!
Sweet Senior Girl Ginger was picked up as a stray in rural south Georgia and taken to a shelter that does not do adoptions to the public. Her only hope to avoid euthanasia was for a rescue to step in. A call went out asking for a rescue to help. The Doberman Assistance Network heard the call and started looking for a Doberman Rescue with an opening. The angels of Southwest Ohio Doberman Rescue stepped up and found a foster home for her. When she arrived to her rescue foster home she was taken quickly to a vet where she was diagnosed with Lumbosacral Spondylosis. She is feeling better after being put on Novox and will probably get Cortisone soon. They are also looking into massage and water therapy. She is heartworm positive so she will soon start treatment. Ginger is a doll of a Doberman who has never met a stranger, absolutely adores her foster mom and follows her everywhere. She gets along with both cats and dogs in her foster home winning over the Queen Dober girl in the household. The only word that truly describes her winning personality is charisma!
Special Needs If Any: Would be best in a home without many stairs.
Geographic areas you adopt to: Rescue will consider applications throughout the U.S. and Canada providing a home visit can be done.
Contact Information: If you are interested in adopting a Senior, please visit the Southwest Ohio Doberman Rescue (SWODR) website at www.swohiodoberescue.org to submit an application. or by e-mail at swohdoberescue@aol.com. Southwest Ohio Doberman Rescue will consider applications from throughout the U.S. and Canada, provided we can get a home visit done. Travel to meet the dog and transportation of the dog to its new home (ground only) are the responsibility of the adopter. See our website for further details. An application is required.