Apache!!
January, 2015 - Rest In Peace dear Mr. Apache!

You are so very loved, forever!!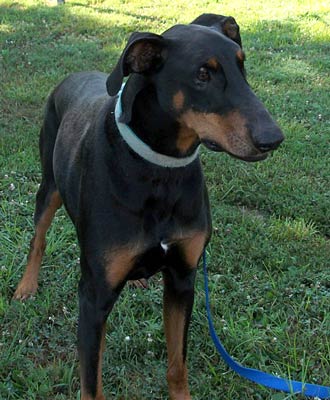 Meet Mr. Apache! He's taken what life has given him like a Brave!!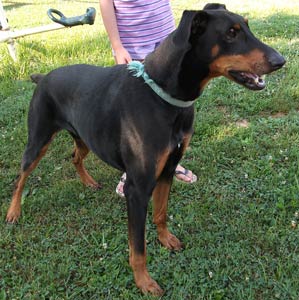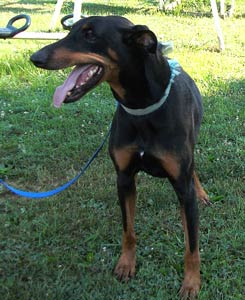 This Brave has made himself a Chief of Hearts!!
Seven year-old Apache has been returned to rescue after his last adopter became too ill to care for him. He's had several homes in his life time but is now in a foster home where he is loved. He has some visual issues so it has been decided that he will remain in his present foster home for the rest of his days. Apache is a happy Senior boy who plays with the other dobes he lives with and he adores and is adored by two little girls in the home. Each morning his job is to wake them up with a big kiss and then he eagerly waits for them to come home from school each day.
Special Needs if any: Due to his visual issues he will remain in his present foster home.

Geographic areas: N/A
Contact Information: If you are interested in adopting a Senior, please visit the Southwest Ohio Doberman Rescue (SWODR) website at www.swohiodoberescue.org to submit an application. or by e-mail at swohdoberescue@aol.com. Southwest Ohio Doberman Rescue will consider applications from throughout the U.S. and Canada, provided we can get a home visit done. Travel to meet the dog and transportation of the dog to its new home (ground only) are the responsibility of the adopter. See our website for further details. An application is required.
The Sponsor A Senior program helps Seniors by raising funds for their rescue programs. This helps offset some of the additional costs that come with caring for a senior (diet, medications, supplements, etc.). Please read more about this program on the Sponsor A Senior page.
Mr. Apache is looking for a sponsor! The cost to sponsor a Senior Dobe is $40 per month or $480 per year. You can sponsor a Senior for one month, one year, or somewhere in between. To sponsor Mr. Apache, use the PayPal button below or visit the Sponsor A Senior page for instructions on sending a check. Thank you for any help you can give, it is MUCH appreciated!