Bernie!
July, 2017 - Rest In Peace dear Mr. Bernie!

You are so very loved, forever!!
Meet Mr. Bernie!!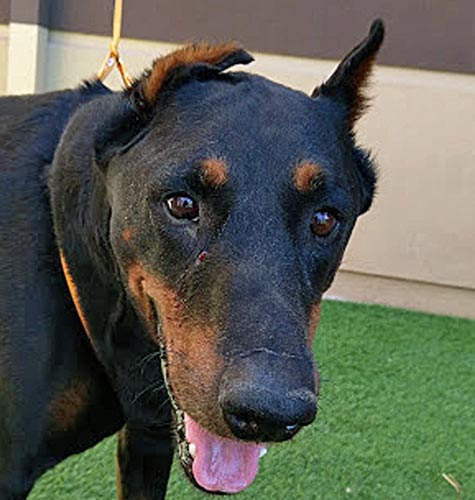 Thank you DRNV for taking care of me!!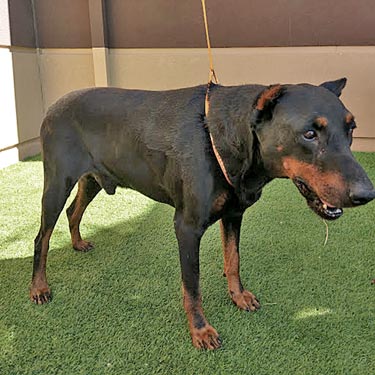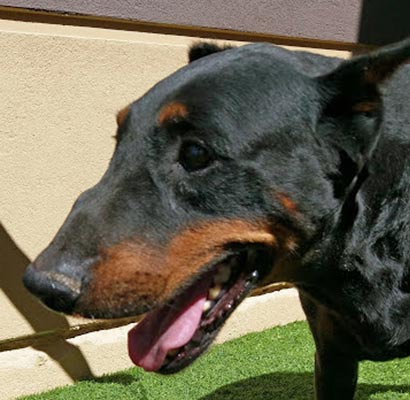 Thanks to you and my wonderful Foster Family, I'll be loved for the rest of my life!!
Bernie at the age of 9 years old is described as one of the nicest, friendliest and sweetest dobes the rescue has ever met. His past is mystery, but we do know is Bernie was discovered at a shelter in San Bernardino, CA with the label 'stray' attached to him. He was terribly dirty, incredibly smelly, and had an open wound on his snout oozing odorous blood and pus. This shelter is notorious for killing animals quickly, especially unhealthy ones, and Bernie's kill date had been set for the very day the angels from Doberman Rescue of Nevada stepped in to save him. Misdiagnosed at the shelter with having eye and nasal infections, DRNV's vet quickly diagnosed him with severe dental infection. The infection was so widespread that the pressure from the build up of pus on the roof of his mouth literally perforated through his snout causing the drainage of blood and pus! The pain he had to have been experiencing would've been horrendous, yet he remained sweet doing the dober lean. Surgery was a long three hours, and the exudates were sent to pathology to ensure Bernie doesn't have any additional troublesome diagnoses. Unfortunately, pathology revealed a hidden sarcoma above the wound he had. His lungs are still clear so he will have a happy life in hospice with a wonderful family for the rest of his days.
Special Needs if any: His future needs will be taken care of by DRNV.
Geographic areas for adoptions: Any state in the western part of the U.S. as long as a home visit can be arranged. New adopters must come to Nevada to meet the Doberman they wish to adopt and bring with them any pet who lives in the home.
Contact:

Phone: 702-672-7204
Website: www.drnv.org
Email: info@drnv.org
The Sponsor A Senior program helps Seniors by raising funds for their rescue programs. This helps offset some of the additional costs that come with caring for a senior (diet, medications, supplements, etc.). Please read more about this program on the Sponsor A Senior page.
Mr. Bernie is looking for a sponsor! The cost to sponsor a Senior Dobe is $40 per month or $480 per year. You can sponsor a Senior for one month, one year, or somewhere in between. To sponsor Mr. Bernie, use the PayPal button below or visit the Sponsor A Senior page for instructions on sending a check. Thank you for any help you can give, it is MUCH appreciated!