Wes!
Seeking Sponsor Only

Age
9

Sex
Male

Color
Blue/Tan

Date Listed
05/24/08

Location
Lebanon, Maine

Rescue Group: NHRRL


Primary Contact

Willa Jean Menz
trdjsr@aol.com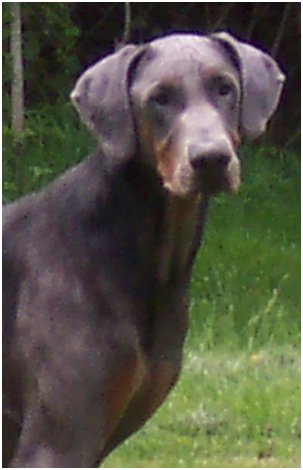 Gorgeous Wes was purchased because the owner thought he would be worth a great deal of money, his vet told him otherwise and he was turned over to the NHDRL. He is a large boy that loves to play, "mouths", twirls and loves his stuffed animals. Has a female Dobie friend that he loves to play with. Is good with other dogs but does not realize how big he is. Big lovebug, comes when called, not a grabber when it comes to treats. Loves to run and play.
SPECIAL NEEDS: thyoid medicatin, nutritional supplements for skin, twice monthly medicated baths, has big eyes that need cleaning nightly.
Contact Information: Willa Jean Menz by email: trdjsr@aol.com.
Wes is in permanent Foster at this time - It's 2013 and he's now 14 years young! If you want to know more about Mr. Wes, please contact Willa Jean Menz by email: trdjsr@aol.cm.
The Sponsor A Senior program helps Seniors by raising funds for their rescue programs. This helps offset some of the additional costs that come with caring for a senior (diet, medications, supplements, etc.). Please read more about this program on the Sponsor A Senior page.
Wes is looking for a sponsor! The cost to sponsor a Senior Dobe is $40 per month or $480 per year. You can sponsor a Senior for one month, one year, or somewhere in between. To sponsor Wes, use the PayPal button below or visit the Sponsor A Senior page for instructions on sending a check. Thank you for any help you can give, it is MUCH appreciated!
All rights reserved, Special Needs Dobermans, Inc. © 2002, 2003, 2004, 2005, 2006, 2007, 2008. Reprinting of material found herein without written permission is prohibited. "Dober'Toons!" are the property of L.Angele Laughlin-Semple, All rights reserved. Copyright © 1998-2013 L.Angele Laughlin-Semple. Copying, linking and/or reproduction of any "Dober'Toons!" artwork on this site is denied without permission.