Shaquille!
Status
Needs Home

Age
9

Sex
Male

Color
Black/Rust

Date Listed
03/12/05

Location
Sandown, NH

Primary Contact:
Doberman Rescue Unlimited, Inc
Doberman@dru.org
(603)887-1200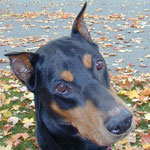 Shaquille in New Hampshire
Shaquille is a 9 year old, black and rust, cropped and docked male whose owners gave him up when they adopted a child. The agency wouldn't allow the adoption until the Doberman was removed from the home. Shaquille was kept outside all day in the backyard and stayed in the laundry room at night.
Despite having a chronic joint problem with his rear leg, Shaquille runs like crazy. He also has no trouble attempting to get into anything edible…no matter how high up it might be. Clever boy! Shaquille is not a friend to cats.
If you are interested in adopting Shaquille, please contact Doberman Rescue Unlimited, Inc. at Doberman@dru.org
Contact Information:
Doberman Rescue Unlimited, Inc.
http://www.dru.org/index.htm
52 Tenney Rd.
Sandown, NH 03873
(603)887-1200