Mona!!
September, 2013 - Rest In Peace, dear Miss Mona!!

Meet Miss Mona!!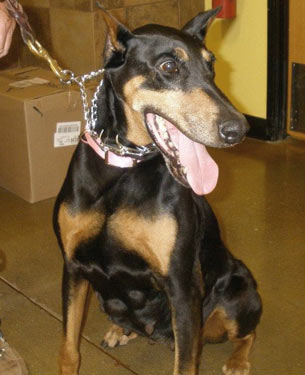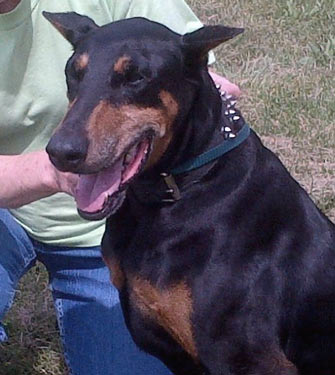 Miss Mona is READY for the rest of her life... NOW!!
Soooo sweet 7 year-old Mona is looking for a home with a family who will love her forever. She is a strong and healthy Senior who loves exercise and cuddling with her humans. Mona is very food motivated and learns quickly - already knowing how to sit and shake. She also rides well in the car and would make a wonderful traveling companion. She does well with other dogs as long as they are larger than a toy breed (hors d'oeuvre) and does not do well with cats. If you're looking for a sweet devoted DobeLady to add to your family, you could not go wrong with Miss Mona.
Special Needs if any: None!
Geographic areas: Nebraska, Iowa, South dakota, and sometimes Colorado.
Contact Information: If you are interested in adopting dear Miss Mona, please visit the Doberman Rescue of Nebraska website at www.doberescue-ne.org to submit an application. Contact via e-mail to dron95@yahoo.com
The Sponsor A Senior program helps Seniors by raising funds for their rescue programs. This helps offset some of the additional costs that come with caring for a senior (diet, medications, supplements, etc.). Please read more about this program on the Sponsor A Senior page.
Miss Mona is looking for a sponsor! The cost to sponsor a Senior Dobe is $40 per month or $480 per year. You can sponsor a Senior for one month, one year, or somewhere in between. To sponsor Miss Mona, use the PayPal button below or visit the Sponsor A Senior page for instructions on sending a check. Thank you for any help you can give, it is MUCH appreciated!