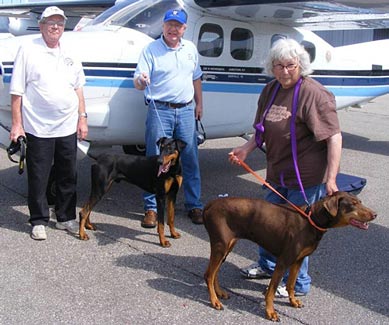 This is definitely the strangest car ride I was ever on!! We were airborne!!
Okay!! No more sauce for me!! Hopefully, I was winging my way to my new forever home!

Meet 11 year-old Nina! She is a beautiful all natural dobergirl who found herself in a high kill shelter outside Atlanta, GA after her owner died. Her owner's family had no use for their mother's precious Nina and she was immediately placed on the euthanasia list at the shelter due to her age. A wonderful shelter worker fell in love with Nina's sweet personality and started keeping her in her office while she was at work. She also contacted the Doberman Assistance Network. When Arda at Second Chance Doberman Rescue said send her to us. Pilots N Paws joined in the effort and Miss Nina added airplane flight to her list of experiences. This wonderful Senior girl is a bit of a grouch with other dogs but is a total lover to all people. She is in the beginning stages of Wobbler's Disease but is still very active. Her favorite pastime is snoozing on her dog bed.

Special Needs if any: Wobbler's Disease

Geographic areas: MI, IN, OH, IL, and some regions of Canada

Contact Information:
Contact: Sarah Runyan
Phone: 989-792-3772
Website: www.secondchancedobes.com
Email: doberpagegirl@secondchancedobes.com

.