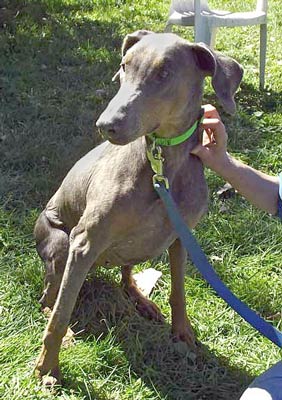 Meet Miss Indigo!! That's right! Miss Indigo BLUE!!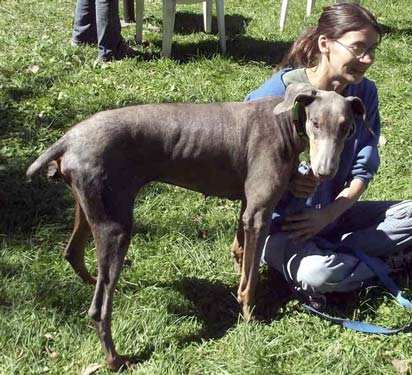 Won't you make my Blue Days disappear? I hear lots of love will do it!!

Happy 10 year-old Indigo was found walking in a field in Toledo in bad shape. Her teeth were so bad they were greenish yellow and smelled bad. Five teeth were removed right away but she still requires a soft diet because of her teeth. She also had a couple of suspicious looking mammary glands that were removed. Indigo is very sweet girl who loves other dogs, loves her bed, and most of all, loves to be petted. She does have a sparse coat and has been put on fish oil to help with her dry skin. Other than the issues listed above she is healthy and would make someone a great companion.

Special Needs if any: Soft diet

Geographic areas: MI, IN, OH, IL, and some regions of Canada

Contact Information:
Contact: Sarah Runyan
Phone: 989-792-3772
Website: www.secondchancedobes.com
Email: doberpagegirl@secondchancedobes.com

.