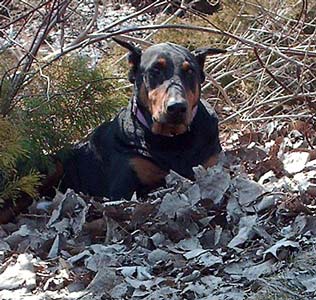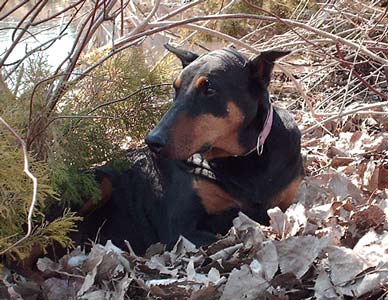 Some may think 12 years old is the Winter of life - BUT, I'm in the Fall of mine...
and loving every minute!! Won't you be my Forever Home in Winter?

Emily is a 12 year-old beauty who was dumped with her sister Mamie at a local shelter by their owners for unknown reasons. Emily's sister Dobe Mamie passed away in her sleep at the age of 11 leaving Emily to adjust to her loss as well as the change in her circumstances. However, Emily is a very affectionate girl who loves to do the Doberlean and to rest her head in your lap. She gets along well with the other dogs in her foster home but does not take part in any rough-housing. This beautiful elderly girl is well behaved, gentle, and quiet. She loves to sun herself outside and has the true Doberman spirit. She is loving, sweet, attentive and smart. Emily is a favorite with all the staff at Second Chance Dobes and her foster mom loves her very much and is willing to keep her if a good home does not come about.

Special Needs if any: She is currently on treatment for her arthritic pain and her back will shake if she's on her feet for too long. She is also incontinent, like so many older girls and is medication for that as well.

Geographic areas: MI, OH, parts of IN, IL, and Ontario

Contact Information:
Contact: Sarah Runyan
Phone: 989-792-3772
Website: www.secondchancedobes.com
Email: doberpagegirl@secondchancedobes.com


.