Sir Zeus!! A Knighted God on Mount Olympus!!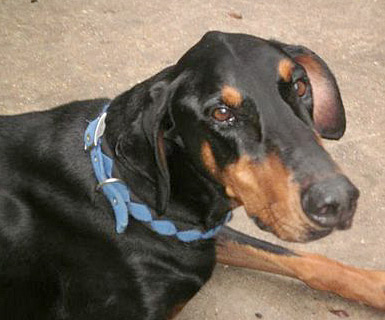 I'd love to reign supreme in YOUR heart!!
Sweet Senior boy Sir Zeus at 10 years-old found himself left alone in the quiet home he'd lived since he was 14 weeks old when his beloved owner lost her home and had to move to an assisted living facility. Sir Zeus was left behind in the home with only someone coming by once a day to feed and water him. The wonderful people of Gulf Coast Doberman Rescue could not stand the thought of him waiting in the empty home and quickly arranged a foster home for him. Subdued and understandably a little depressed, Zeus is affectionate to all people and will reward your attentions with a little tail wag. This loving Senior has an angelic face and a temperament to match. He gets along well with other dogs but had not been tested with cats. He is housebroken and knows sit, down, shake and possibly other commands not yet discovered. Zeus needs a loving home to settle into for this remaining years.
Special Needs if any: None
Geographic areas: Louisiana, Mississippi, Alabama, Houston area of Texas and the Florida panhandle.
Contact: Terri Valenti
Phone #: Please contact through email
Website: www.gulfcoastdobermanrescue.com
Email: GCDR@bellsouth.net