Shadow!
April, 2011 - Rest In Peace, dear Shadow!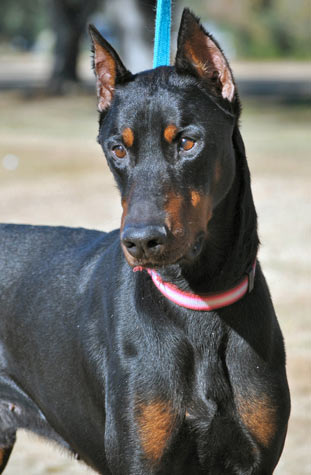 The Shadow (Lamont Cranston)!!
...The Shadow knows!! What a gorgeous shadow he will make some lucky DobeLover!
Shadow is a distinguished Senior gentleman at 9 years-old who was sent to rescue after his owner died. This has been a tough adjustment since he'd only had one home in his life. He's had to learn to live with new people and other dogs. Shadow had never been in a crate but has decided it's not so bad because it has a nice soft bed in it and his foster mom always leaves him a treat in there. Due to his owner's illness he'd not received the best care the last few years so he will be going to the vet for a full check up. Shadow would prefer a home with an older female dog as puppies are a little too much for him. He's never been around cats or small children so older children are preferred. Shadow loves the attention and love from all people and has the dober lean down to perfection.
Special Needs if any: Medication for arthritis in his leg.
Geographic areas: Louisiana, Mississippi, Alabama, Houston area of Texas and the Florida panhandle.
Contact: Terri Valenti
Phone #: Please contact through email
Website: www.gulfcoastdobermanrescue.com
Email: GCDR@bellsouth.net
The Sponsor A Senior program helps Seniors by raising funds for their rescue programs. This helps offset some of the additional costs that come with caring for a senior (diet, medications, supplements, etc.). Please read more about this program on the Sponsor A Senior page.
The Shadow is looking for a sponsor! The cost to sponsor a Senior Dobe is $30 per month or $360 per year. You can sponsor a Senior for one month, one year, or somewhere in between. To sponsor dear The Shadow, use the PayPal button below or visit the Sponsor A Senior page for instructions on sending a check. Thank you for any help you can give, it is MUCH appreciated!