Sasha Rose!
July, 2014 - Rest In Peace, dear Miss Sasha Rose!!

You will be sorely missed!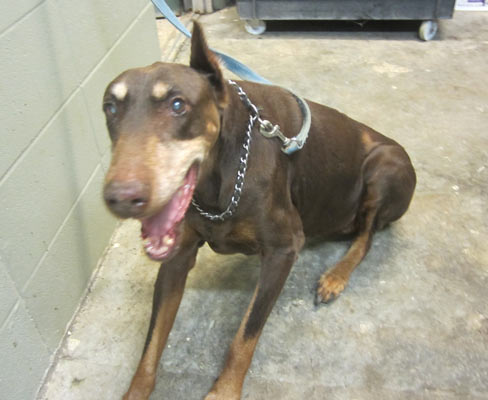 Meet Miss Sasha Rose!!
Really? I made bail? Escaped the Cocktail Lounge?
My world went from gray to...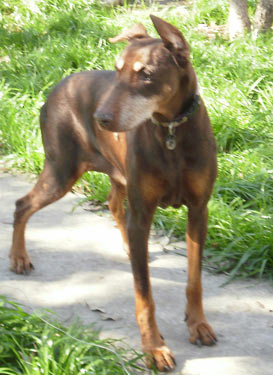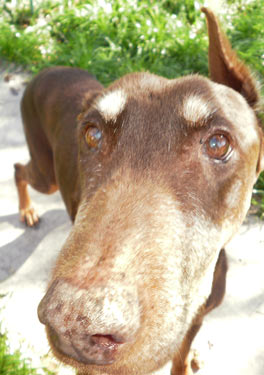 GREEEEEEEN again!!! Look at those beautiful eyes Foster Mom fell for!
Senior Lady, 13 year-old Sasha Rose was dumped out in a neighborhood before Gulf Coast Doberman Rescue could answer her owners email wanting to surrender her. She was then picked up by Animal Control as a stray so had to, by law, spend four days in a horrible animal shelter on a stray hold before rescue could pick her up. Sasha is deaf or very hard of hearing and when pulled had a severe ear infection. She has arthritis in her rear legs but still gets around well and has been placed on medication to help with this. She was, to everyone's surprise and delight, heartworm free! Sasha Rose is very much the dobie girl and can hang with the rest of her foster mates when it comes to leaning and nudging for attention. Her Foster Mom feels she still has some living and loving to do, even at the grand old age of 13 and will be allowed to stay with her Foster Family the rest of her days.
Geographic areas: N/A
Special Needs: None
Contact: Terri Valenti
Phone #: Please contact through email
Website: www.gulfcoastdobermanrescue.com
Email: GCDR@bellsouth.net
The Sponsor A Senior program helps Seniors by raising funds for their rescue programs. This helps offset some of the additional costs that come with caring for a senior (diet, medications, supplements, etc.). Please read more about this program on the Sponsor A Senior page.
Miss Sasha Rose is looking for a sponsor! The cost to sponsor a Senior Dobe is $40 per month or $480 per year. You can sponsor a Senior for one month, one year, or somewhere in between. To sponsor dear Miss Sasha Rose, use the PayPal button below or visit the Sponsor A Senior page for instructions on sending a check. Thank you for any help you can give, it is MUCH appreciated!