Katie!
July, 2011 - Rest In Peace, dear Miss Katie!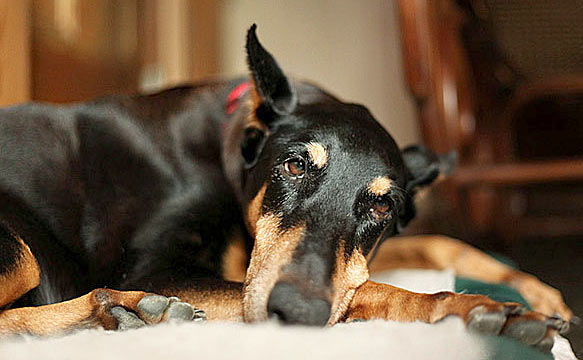 Meet Miss Katie wondering what her future holds...
W hy not step up and be a part of it?? She'll thank you for it... everyday!!
Gulf Coast Doberman Rescue finds it hard to believe that someone dumped beautiful 9 year-old Katie in a North Louisiana kill shelter. A volunteer drove this sweet Senior Lady all the way to New Orleans in style on heated car seats like the Queen she was intended to be. Katie is a joy to have around and does well with her fellow foster dobes in the home. She's still a little frightened of the "doggy door" and prefers the "people door". Her foster mom would prefer she find an adopter who is home all day and would let her in and out as needed. Katie shares her foster home with two other Senior females and a handsome Senior male by the name of Blaze. She's really quite smitten with him.
Geographic areas: Louisiana, Mississippi, and lower Alabama
Contact: Terri Valenti
Phone #: Please contact through email
Website: www.gulfcoastdobermanrescue.com
Email: GCDR@bellsouth.net
The Sponsor A Senior program helps Seniors by raising funds for their rescue programs. This helps offset some of the additional costs that come with caring for a senior (diet, medications, supplements, etc.). Please read more about this program on the Sponsor A Senior page.
Miss Katie is looking for a sponsor! The cost to sponsor a Senior Dobe is $30 per month or $360 per year. You can sponsor a Senior for one month, one year, or somewhere in between. To sponsor dear Miss Katie, use the PayPal button below or visit the Sponsor A Senior page for instructions on sending a check. Thank you for any help you can give, it is MUCH appreciated!