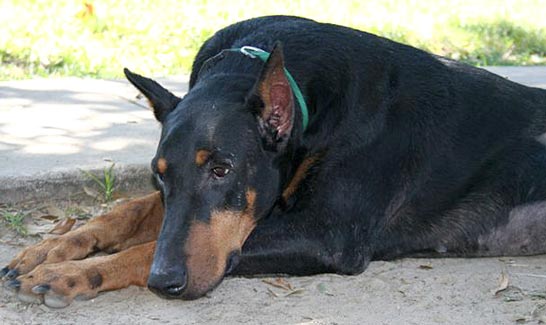 Dear Joe!! Please help him weather this next storm!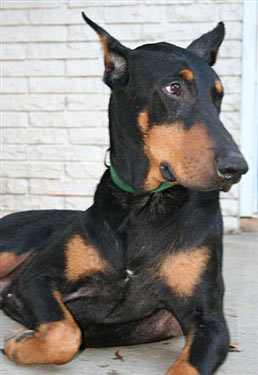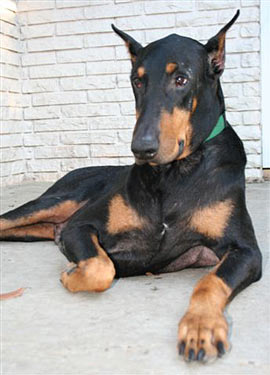 This DobeGent has a lot of love yet to give and receive!!
Joe is a wonderful 7 year-old Senior boy who has a very sad story. He is actually a Hurricane Katrina victim who's hips where crushed in the storms. The vets were so amazed at his wonderful temperament that no one had the heart to put him down. A foster home was found with a lady who rehabilitates wildlife and she lovingly nursed him along with rabbits, opossum, raccoons, and squirrels as his roommates. Joe never attempted to harm his little friends but his foster mom's home was so badly damaged she finally contacted GCDR for assistance on his behalf. She sent a photo of Joe walking around with his friend the opossum that won everyone's heart.
He loves to be scratched on his neck and behind the ears and get's along with everyone. He will stand with his head in your lap for longer than you can sit still. His favorite things, other than his humans, are big soft beds and dinner.
Special Needs: Joe has a bleeding disorder so surgery is not an option. He has been placed on arthritis meds that have helped his hips and he is now moving around with a zip in his steps. Joe has also recently been diagnosed with DCM so he also needs cardio meds to help lessen the strain on his heart. GCDR will continue to shower Joe with love and care to make all his remaining days as comfortable and filled with love as possible.
Contact: Terri Valenti
Phone #: Please contact through email
Website: www.gulfcoastdobermanrescue.com
Email: GCDR@bellsouth.net