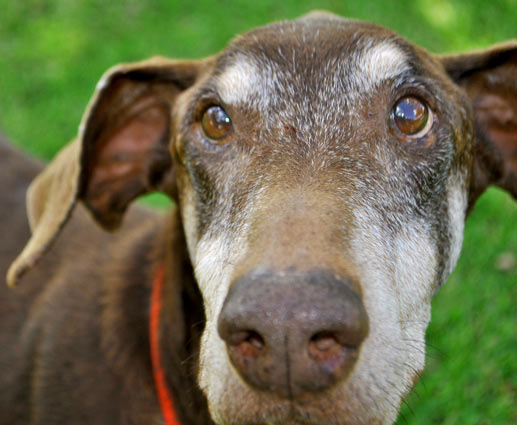 Meet Mr. Dash... This is the hell these eyes have seen...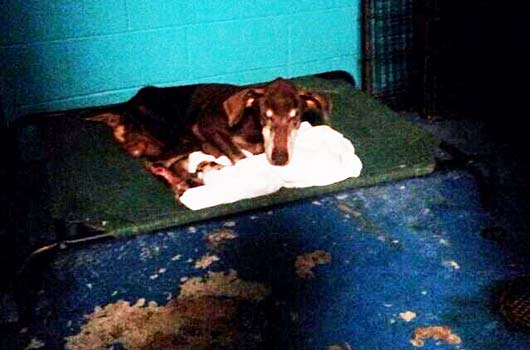 A dismal, dank hell... until a RescueAngel stood at the end of the lighted tunnel...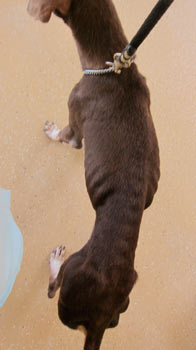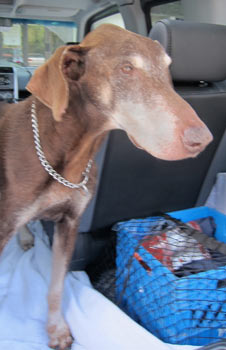 and the light kept getting brighter!!

Heaven!! Mon Dieu... I'M IN HEAVEN!!!
Oui Virginie, il y a un Pere Noel!!
He's a Cajun boy so pardon his French: Yes Virginia, there is a Santa Claus!!
Senior Gent 12 year-old Dash was plucked from a Gulf Coast kill shelter by Gulf Coast Doberman Rescue right before he was to be euthanized after he'd been surrendered to Animal Control for neglect. Neighbors could no longer bear to see him being mistreated and reported his abuse to the authorities. When pulled from the shelter he was emaciated, heartworm positive, and had a wound on his rear leg. Still intact, one of his testicles was badly swollen so he was neutered and it is hoped that the lab will clear him of cancer. He is now gaining weight eating three meals a day and learning the joys of living the inside life. When first coming to rescue he preferred to be out on the patio as he'd always lived outdoors. He is loving all the human attention he's receiving and everyone is relieved he was surrendered before Hurricane Isaac hit while Dash was still living outdoors.
Given his advanced age Dash will have a forever foster home with Gulf Coast Doberman Rescue. He will be loved and provided with whatever medical care he needs to make the remainder of his life as easy and carefree as possible. Won't you step up and be a part of his "step up?"
Geographic areas: Louisiana, Mississippi, and lower Alabama
Special Needs: These two are up for adoption together only
Contact: Terri Valenti
Phone #: Please contact through email
Website: www.gulfcoastdobermanrescue.com
Email: GCDR@bellsouth.net