Blaze!
March, 2012- Rest In Peace, dear Mr. Blaze!

You will be remembered with great love!!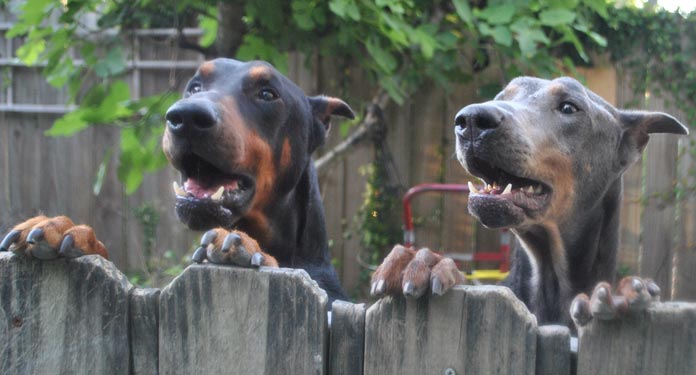 What in the Blue Blazes?? :)) Meet Mr. Blaze (left) and Brother Blue (right... RIGHT On!!)!!
Visit Mr. Blue here http://www.doberman911.org/seniors/cases/la_blue.html
Handsome 10 year-old Blaze was surrendered to a high kill shelter along with his brother Blue. He was heartworm positive and had a painful swollen leg. On his neck is an old scar from a previously embedded collar or chain. His swollen leg may be cancerous but has improved with pain meds. It has been decided that he will remain in his foster home as a hospice case. Blaze is feeling good now and is enjoying living with three Senior females and being the "man of the house." Seems the girls are smitten with him too! He is a very sweet and loving boy who is so happy to be starting a new and better life.
Geographic areas: Louisiana, Mississippi, and lower Alabama
Contact: Terri Valenti
Phone #: Please contact through email
Website: www.gulfcoastdobermanrescue.com
Email: GCDR@bellsouth.net
The Sponsor A Senior program helps Seniors by raising funds for their rescue programs. This helps offset some of the additional costs that come with caring for a senior (diet, medications, supplements, etc.). Please read more about this program on the Sponsor A Senior page.
Mr. Blaze is looking for a sponsor! The cost to sponsor a Senior Dobe is $30 per month or $360 per year. You can sponsor a Senior for one month, one year, or somewhere in between. To sponsor dear Mr. Blaze, use the PayPal button below or visit the Sponsor A Senior page for instructions on sending a check. Thank you for any help you can give, it is MUCH appreciated!