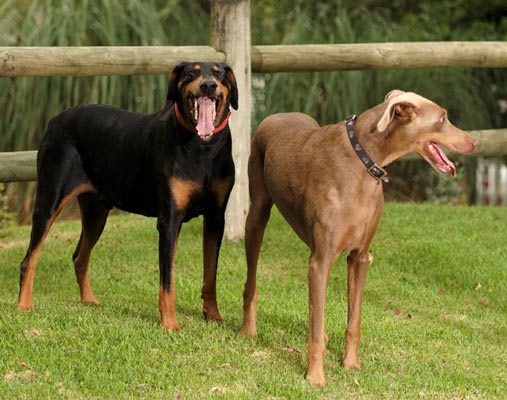 Meet Apollo!! This Olympian managed to survive Hurricane Katrina with hiss BFF Deuce!!
Visit Mr. Deuce here http://www.doberman911.org/seniors/cases/la_deuce.html
Ten year-old Apollo has had a hard life and came to GCDR years ago after spending most of his life tied to a front porch. He was adopted by a veterinarian in Mississippi and there, met his best friend Deuce. Life was good there until Hurricane Katrina hit the Gulf Coast Community. His owner believed her home was safe as it had withstood hurricanes before. Intending to ride out the storm with her dogs she finally relented to family pressure and sought shelter at the last minute leaving Apollo and Deuce behind with enough food and water for several days. Her Mississippi community was virtually washed away by the storm. She returned home as soon as local police would allow and found her home only partially standing. Doors had to be knocked down to search through the devastation. Behind the last door were Apollo and Deuce, curled up together on a wet mattress. Scratches near the ceiling evidenced their desperate attempts to keep their heads above water as it rose. Together, Apollo and Deuce had miraculously survived.
Due to the financial hardships brought by the storm their owner surrendered both Apollo and Deuce back to GCDR. Given all these two wonderful dobes have been though it has been decided that it would be a crime to separate them now. Apollo and his buddy Deuce are now with a wonderful foster family until a forever home can be found who will take them both. They are extremely bonded and spend their days on a sofa together where you can find Deuce gently grooming his dear friend Apollo.
Geographic areas: Louisiana, Mississippi, and lower Alabama

Special Needs: These two are up for adoption together only
Contact: Terri Valenti
Phone #: Please contact through email
Website: www.gulfcoastdobermanrescue.com
Email: GCDR@bellsouth.net