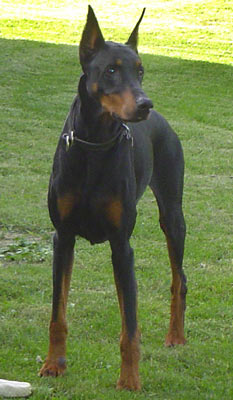 Hi Folks!! I'm just popping in to show you what TLC does for a DobeGent!!
Thanks for supporting me!! I'm worth it!! I'm all DOBEDUDE!!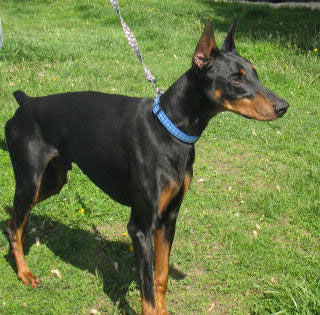 Meet Mr. Warren! With credentials like these, you're guaranteed many smiles!!

Meet the handsome 9 year-old Mr. Max Warren who was surrendered to Illinois Doberman Rescue because his owners said they didn't have time for him. Max has been wonderful since he came to his new foster home and is a very loving, well-behaved gentleman. He is not fond of being in a crate and gets very uneasy when put in one. His foster mom is currently not crating him and he's doing fine as he's happy to just curl up on a comforter at bedtime. Max has lived with kids in his past and is doing well with the children and other dogs in his new foster home. He does get a bit too excited when he sees cats so it would be best for him not to be around them. Max pulls quite a bit on his leash and can be quite bouncy for a distinguished Senior gentleman. He has handled the changes in his life very well and seems happy to be back with a family who gives him their time and attention. Max would love to have a family of his own.

Special Needs if any: A bit arthritic but otherwise healthy

Geographic areas: IL and surrounding states

General Contact Information: Illinois Doberman Rescue will place Dobes in Illinois, Iowa, Indiana, or Wisconsin. Please contact Pam by e-mail at orphandobe@ameritech.net.Or go to IDR's website at http://www.ildoberescue.com for adoption information and application.

.