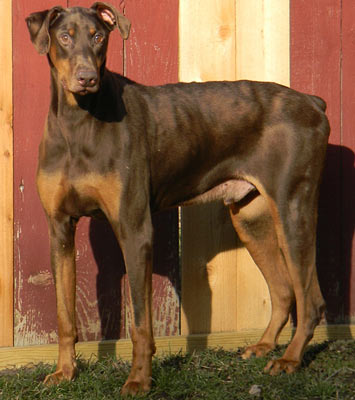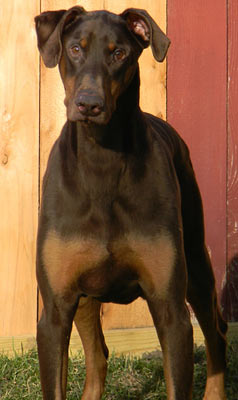 I'm baaaaack!! KEMO SABE indeed! What a pisser!! Literally...
Though NOT my fault!!
* * * * * * * * * * * * * * * * * * * * * * * * *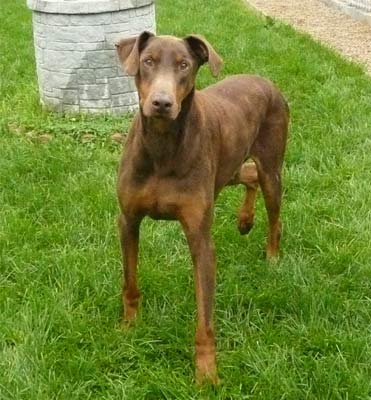 Meet Mr. Kemo! He would love to have his BFF Sabe (aka Miss Justice) (below)
riding by his side on the happy trail forever!!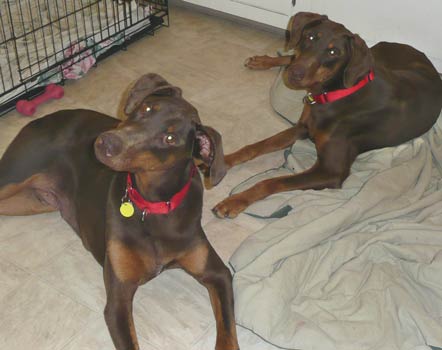 Here are BFF's Kemo & Sabe Tonto!! You're NOT seeing double!!
Mr. Kemo and Miss Sabe (aka Justice) are attached at the hip!!

JANUARY, 2012: Handsome 9 year-old Kemo has been returned to rescue because of a medical issue. His adopter thought he was peeing in the house out of jealousy but a trip to the vet revealed he has an issue called Glomerulonephritis and will need to be on K/D low protein dog food for the rest of his life. He is doing well in his foster home and although a little arthritic he loves to run and play. He is a large Doberman at 91 pounds but his idea weight would be closer to 100. He does fine with most dogs but would probably be best with another female. He is trustworthy in the home, knows a few commands and loves car rides. He never counter surfs or gets in the trash and is fine with children. He is not good with cats and his previous owner said he did not do well with small dogs but has been fine with a French Bulldog in rescue. Overall, Kemo is a big goofy Senior who is looking yet again for his forever home. He would do best with a ranch style home and with someone who is home a lot because he needs to drink a lot of water thought out the day and will need to go out more. Kemo is part of IDR's Guardian Angel Program so his special K/D food and any medications he needs that relates to his Glomerulonephritis will be covered.

Special Needs if any: See above.

1st Listing: Handsome Kemo at eight years-old was abandoned by his owner in an empty home with his buddy Senior boy Justice. A good citizen became concerned and investigated only to find them living in conditions unfit for any living animal. He is now with IDR, vetted and ready for his new forever home. He has adjusted well to living indoors after a life time of only being outside. Kemo is housebroken, sweet, and loves everyone. He loves to play hard then come in for a well deserved nap. He is very funny as he moans and groans loudly while he making himself comfortable. What a dream if they could be BFF's in the same Forever Home!!

Special Needs if any: None

Geographic areas: Illinois and the surrounding states


General Contact Information: Illinois Doberman Rescue will place Dobes in Illinois, Iowa, Indiana, or Wisconsin. Please contact Pam by e-mail at orphandobe@ameritech.net.Or go to IDR's website at http://www.ildoberescue.com for adoption information and application.

.