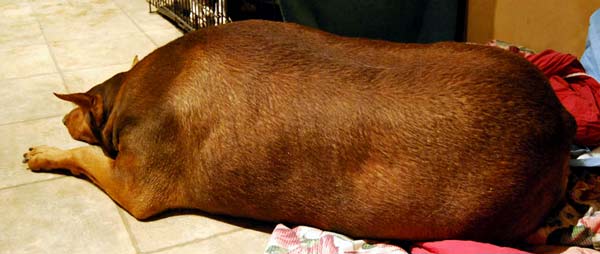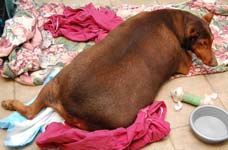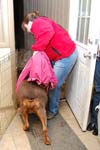 This is what happens when you love your Dobe to death, literally! The owners called their clinic to euthanize her because she could not walk anymore.
Right now she is completely immobile. I have to lift her up with sheets just to get her to stand or walk. The vets believe it is all weight related but we will not know until some of the weight comes off. We just ordered a special 200 dollar harness that is heavy duty in order to hook her onto something to stand for about 10 minutes at a time. The vet wants to keep all her body parts working. We are also doing hydrotherapy so she is using some of her muscles. That is costing us 55 dollars a time and we are doing it 2x a week. Coming into rescue the vet said she weighed 175 pounds falling off the scale so more like 185.
Gretchen is currently in a foster home. We are just hoping she walks again and can have a good rest of her life. She is absolutely a wonderful girl. She has been very tolerant of all we are doing with and to her.
February, 2009 - Poor Gretchen was just too sick to survive - RIP Sweet Gretchen
Contact Information: Geographic area within which rescue will place the Dobe: IL, IN, KY, MI, WI. Please contact Pam by e-mail at orphandobe@ameritech.net or go to IDR's website at http://www.ildoberescue.com for adoption information and application.