Georgia!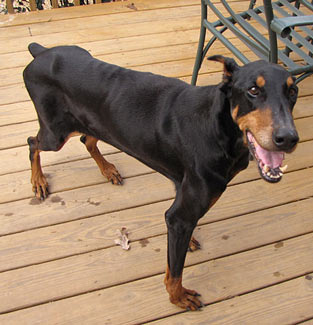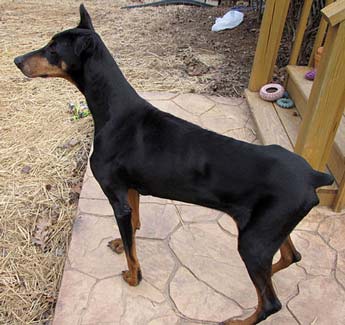 ...just an old sweet face keeps Sweet Georgia on your mind!!
Eight year old Georgia was turned in to ADPR by her owner who was too illiterate to even complete her paperwork and had to bring a family member to do it for him. He had owned Georgia since she was one year old and had never taken her to the vet because "she was never sick". When she arrived she had every intestinal parasite a dog can get, was heart worm positive, had hip displaysia and arthritis, and a very low thyroid level. Her heart worm infestation was so severe that she almost did not survive her first heart worm treatment. Although Georgia's health has improved with all the loving care she has received from the people at Atlanta Doberman Pinscher Rescue she is now in a foster home receiving hospice care as she has been diagnosed with a cancerous tumor on her urethra and will need chemotherapy. This sweet senior girl is calm and affectionate, does well with the dogs and cat in her foster home, and loves to go for walks although she is unable to walk very far.
Special Needs if any: Georgia is in hospice care


Contact Information
Name: Jane Fratesi
Rescue: Atlanta Doberman Pinscher Rescue
Phone Numbers: 404-373-3853
Website: http://www.atlantadobermanrescue.com
Email: info@atlantadobermanrescue.com
The Sponsor A Senior program helps Seniors by raising funds for their rescue programs. This helps offset some of the additional costs that come with caring for a senior (diet, medications, supplements, etc.). Please read more about this program on the Sponsor A Senior page.
Sister is looking for a sponsor! The cost to sponsor a Senior Dobe is $30 per month or $360 per year. You can sponsor a Senior for one month, one year, or somewhere in between. To sponsor Sister, use the PayPal button below or visit the Sponsor A Senior page for instructions on sending a check. Thank you for any help you can give, it is MUCH appreciated!
All rights reserved, Special Needs Dobermans, Inc. © 2002. Reprinting of material found herein without written permission is prohibited. "Dober'Toons!" are the property of L.Angele Laughlin-Semple, All rights reserved. Copyright © 1998, 1999, 2000, 2001, 2002 L.Angele Laughlin-Semple. Copying, linking and/or reproduction of any "Dober'Toons!" artwork on this site is denied without permission.