Zoey!
January, 2010 - Rest In Peace, Miss Zoey!!
Miss Zoey has succumbed to DCM... Sleep and play forever in Sirius' Garden in the Night Sky, beautiful Princess!! You are loved and will be sorely missed!!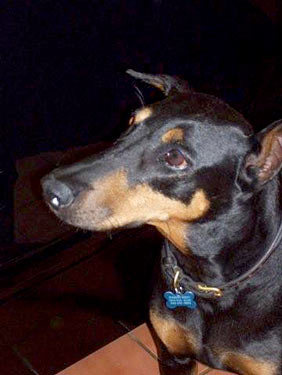 Zoey's foster mom at doberman rescue noticed that Zoey's breathing had suddenly become labored. The foster mom could feel that Zoey's pulse was rapid and erratic. Foster mom immediately took Zoey to the longtime Doberman Rescue Veterinarian, Dr. David Hale in Tallahassee. An EKG was performed and confirmed the rapid irregular ectopic heartbeats. Dr. Hale referred Zoey to Veterinary Cardiologist Dr.Davin Borde in Gainesville, Florida. Zoey has been prescribed the temporary holter heart monitors two times in the past year, each of these initial assessments cost $800.00 each, the last one was in late July this year. Hospice care for Zoey has been provided with a retired cardiac care nurse living in the Tampa area. This loving devoted doberman lover has four rescue senior dobergals in her care, all originating from Doberman Pinscher Rescue at North Florida. Dr. Borde prescribes the medication PENOBENDAN for Zoey. At four pills daily, the prescription costs 200.00 monthly. Fed Ex'd from the Dr. each month the PENOBENDAN is credited with improving the strengh of the heart muscle contraction. The other familiar helpful cardiac drugs currently administered daily to Zoey are all purchased at Walgreens. MEXILETINE, one pill twice a day a heart medicine COREG, 12.5 mg twice a day which reduces irregularity of the heartbeat. BENAZEPRIL, prescribed due to low kidney function. SOTALOL, Arrythmia regulator LASIX, diruetic Zoey is very playful and happy on this drug therapy. Zoey's followup six month check up with Dr. Borde is now due and help is needed to pay for Zoey's follow-up veterinary cardiologist appointment in Gainesville Florida, and monthly drug costs for the future. Please help us continue to help Zoey.
Zoey was discovered at a high kill privatized dual-county shelter in the Florida Panhandle. Conditions there are bleak, the facility has dirt flooors, small wire pens in a converted commercial chicken barn. The barn is reportedly located near the landfill. Doberman afficionado and former doberman rescuer, Kim Todd of Chipley, Florida, alerted Doberman Pinscher Rescue at North Florida about Zoey's need for safe haven. Zoey's exact origin prior to this discovery is not known, since many dogs and cats sheltered in the coastal areas are transported inland to this small Panhandle area high kill facility. It is only known that Zoey arrived there from a coastal area transport.
Zoey stole all our hearts very quickly. We found out that Zoey loves mud puddles, the bigger the better splash, and she loves to outrun all the dobieboys on a full charge to the barn. Such a special gift, this Zoey dobiegal has so many ardent admirers, it will be difficult to know how best to preserve our memories of this never ending charmer.
Special Medical Needs: Zoey needs an appointment for follow up visit with her Gainesville area veterinary cardiologist, as described above.

Geographic area within which rescue will place the Dobe: Hospice care provided

Contact Information
Name: Judy Davis
Rescue: Doberman Pinscher Rescue at North Florida
Phone Numbers: 850-997-3952 850-524-3458
Website: www.dobie-rescue.org
Email: Judy@Dobie-Rescue.Org