Taylor!
April, 2013 - Rest In Peace, dear Mr. Taylor!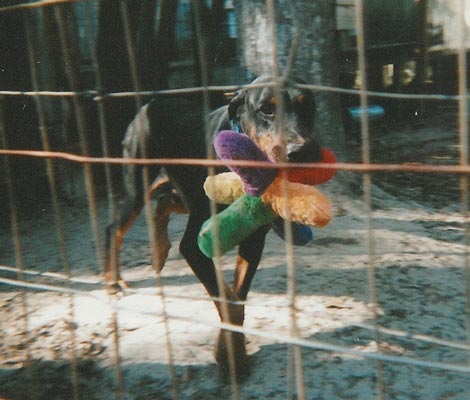 Meet Mr. Taylor! A happy DobeGent patrolling the perimeter with his favorite toy!!
Eleven year-old Taylor came to rescue six years ago from a closed down puppy mill in Birmingham, AL where he was being used as a stud dog. There was hopes that he could be rehabilitated for adoption but that hasn't happened. Taylor still doesn't like people or other dogs so Judy has offered him a safe, no kill haven for the rest of his days. Taylor loves living with Judy and so everyday she makes time, known as Taylor Time, to spend just with him. He loves to hunt the frogs that come into his yard during the summer and adores her absolute undivided attention when Taylor Time comes around each day.
Geographic areas: N/A
Contact Information
Name: Judy Davis
Rescue: Doberman Pinscher Rescue at North Florida
Website: http://www.dobie-rescue.org
Email: Judy@Dobie-Rescue.Org